So you've finished building your landing page (or maybe you just have one in mind) and you're ready for the next step: Connecting your domain. 
This article will help you out with: 
Estimated time to complete: 45-60 minutes to set up and up to 48 hours for changes to fully propagate.
What you'll need
A domain (if you don't have one, you can easily purchase and connect one from iWantMyName.com):
Purchase a domain from iWantMyName.com
Administrative access to your domain's DNS.
Administrative access to your Unbounce account.
---
Adding Your Domain to Your Unbounce Account
Log in to Unbounce.
Select the client under which you would like to add your custom domain.
Open the Domains tab from the side navigation bar.
Click "Add a Domain" or "Add your first domain".

Enter your domain name (either a root domain or a subdomain).



If you already have a website living at your root domain (e.g., www.mysite.com), you'll need to use a subdomain (e.g., promo.mysite.com), because your Unbounce landing pages can't live at exactly the same URL as your home page.

Click Add Domain to confirm.
Note
If your domain has been added to a different Unbounce account in the past and then deleted, an additional security measure will kick in here that prevents domains from being added by anyone other than the owner of the domain.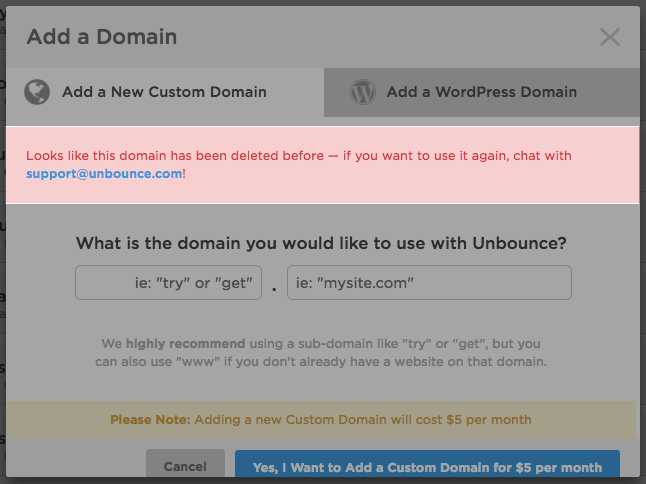 If you receive the above message, you'll just need to contact Customer Support to verify ownership of the domain.
Adding Your Domain to Your Landing Pages
Navigate to the Page Overview for the relevant landing page.
Click Change URL on the upper left of the page.

Select the domain you wish to use for this page from the domain drop-down menu.

Customize your landing page's final URL as desired. 
Click Change URL to save your changes.
Creating a CNAME Record
If your domain hosting service is on the list below, click the service name to find specific instructions for creating a CNAME Record with your provider:
For providers that use cPanel (e.g. LunarHost, Monster Host, SiteCloud, JustHost) you can follow these cPanel set up instructions.
For any other domain hosting services, follow the steps below (or contact your hosting provider's support team):
Sign in to your domain hosting service.
Navigate to your DNS management page.
Find the CNAME record settings.
Create a new CNAME record.
Enter a value for your subdomain in the host field.

For example, you'd enter "try" if you wanted to set up "try.mysite.com".

Note: If you already have a website at "www.mysite.com" you'll need to set up a subdomain such as "try.mysite.com" for your landing pages.

Enter "www" here if you are using a root domain for your landing pages like "www.mysite.com".

Note: If you're using a root domain and want your naked domain (your domain without "www."; e.g., "unbounce.com") to work as well such as mysite.com, check out How to set up a naked domain for instructions on doing this.
Type unbouncepages.com in the "CNAME" field.

Enter unbouncepages.com as the destination or address.
Save the changes to your DNS records.
Changes to your CNAME records can take up to 48 hours to propagate. If you're experiencing difficulties with your custom domain that have not resolved themselves after 48 hours, please check out
Troubleshooting Problems With Your CNAME Record
 below.
---
Troubleshooting Problems With Your CNAME Record
If you've followed the steps above and are still experiencing difficulties 48 hours after making changes to your CNAME records, you can quickly verify your CNAME record by running a CNAME lookup using MxToolbox:
Enter your custom domain's URL in the "Domain Name" field.
Click CNAME Lookup.
Below is the kind of result you're after, as it shows that the domain "www.cheapelephants.com" is correctly pointing to "unbouncepages.com" with a CNAME record:

These results show you:
Type: The type of record created for your subdomain.

If your DNS settings are correct, you will see 'CNAME' in this field.
If you do not see 'CNAME' in the response and only see 'A' then there may be an A Record in your DNS that is overriding your CNAME Record.  This A Record will need to be deleted or changed because you cannot have an A Record and a CNAME record created for the same subdomain.

Domain Name: The domain you searched.
Canonical Name: The host to which your domain points.

If your DNS settings are correct, you will see "unbouncepages.com" in this field
If you see a different value, you will have to edit the host (or points to) value of this subdomain in your DNS settings to be "unbouncepages.com".
Note: you might see something like "unbouncepages.com.yourdomain.com" in this field. If you do, you'll have to return to your host and edit the points to value of your CNAME record to be "unbouncepages.com." (note the extra . at the end).

TTL: Your time to live value.

This is the amount of time your server holds on to older cached information before it refreshes to show any new changes. If your custom domain does not seem to be working properly, you may just need to wait the amount of time indicated before your custom domain will work.
In Unbounce, you can use the gear menu 
 associated with a domain to change, delete, or access the setup instruction for that domain. 
Once your CNAME is fully propagated and functional, head back to the Page Overview and change the URL of any pages you'd like published there.
Note
If you've followed these instructions and are still experiencing difficulties with your custom domain that have not resolved themselves after 48 hours, please send a full screen capture of your current DNS setup to using the Help widget and let us know which hosting provider you are using.
---
Glossary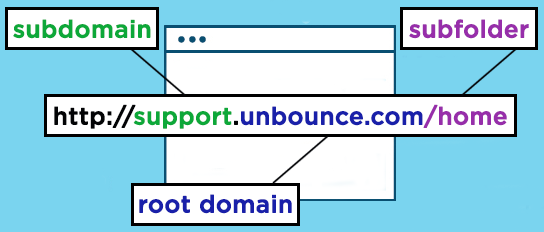 Canonical Name Record (CNAME record): A CNAME record is used to set up an alias for your domain; by adding a CNAME record to your domain's DNS you can direct visitors to your webpages to Unbounce's servers.
Custom domain: Enables landing pages to appear with your domain using Unbounce's CNAME mapping feature.
Domain Hosting Service: The company that hosts your domain, some examples are GoDaddy, DreamHost, and 1&1.
Domain Name System (DNS): This makes sure everyone on the web knows your address, kind of like the yellow pages of the internet.
Domain: A domain is provides a way to uniquely identify your website on the web with a distinct URL of your choosing.
Some example domains: unbounce.com, www.somecompany.com, happyhippos.ca, anything-you-can-think-of.co.nz 
Root domain: A root domain is the google.com of www.google.com; the unbounce.com of www.unbounce.com.
Subdomain: A subdomain is allows you to have multiple unique URLs associated with your root domain. For instance the "app" in app.unbounce.com is a subdomain of unbounce.com. Subdomains are very useful when you want to use your root domain, but already have a website on it.
Examples: try.mysite.com or try.mysite.com/promo
Uniform Resource Locator (URL): A URL is an address for a web page within a domain. It's what you type into the address bar to find a page.
Example: http://www.somecompany.com/a-specific-page/
Back to: Working With Landing Pages »