If you're reading this in our web widget, consider expanding the article for a better reading experience.
Purchasing your own custom domain at a hosting provider then connecting that domain to your landing page is a great way of ensuring strong brand alignment, improved Google indexing, and better GoogleAds compatibility.
Custom domains on Unbounce servers are also GDPR compliant, whereas pages on the unbouncepages.com domain are not.
For more information why you'd want to connect to your own custom domain, visit our documentation on the subject matter.
The following article describes how to connect your custom domain to your Unbounce landing page.
Note:
Have a Wordpress domain?
If you're an Unbounce customer on a paid plan, you can publish landing pages to your WordPress domain through our WordPress Plugin, without the complexity of DNS record and CNAME. Check out
How to set up my Wordpress domain
for instructions on doing this.
What You'll Need:
Connecting your domain to Unbounce requires jumping around to a few different areas of the builder as well as another website so we'll break it down into separate steps:
Here's a video walk-through of how to add a custom domain in Unbounce:
---
Step 1: Add Your Domain to Unbounce
After you've purchased your brand new awesome custom domain, the first thing you'll want to do is add that domain to Unbounce so we know all about it and get it ready to connect to your landing pages:
Log in to Unbounce.

Select the client

under which you would like to add your custom domain from the drop-down menu on the top left-hand side of the screen.

Click the

Domains

link from the navigation bar on the left side of the screen.

Click the

Add a Domain

button. A new dialog box will appear.

In the new

Add A Domain

dialog box, enter your domain name (either a

root domain

or a

subdomain

).

Click the

Create Domain

button to confirm. A new dialog box will appear.

Click the Copy to Clipboard button to copy your unique cname id. Ensure to copy this as you will need it in step 3! Click the Got It button at the bottom right corner of the dialog box.
Your domain should be registered with Unbounce! Now we've got to head over to your hosting provider to make sure they know that your domain needs to redirect to Unbounce.
Note:
If you already have a website living at your root domain (e.g., www.mysite.com), you'll need to use a subdomain (e.g., promo.mysite.com), because your Unbounce landing pages can't live at exactly the same
URL
as your homepage.
Note:
If you're adding a previously deleted domain you'll need some extra help from our friendly support team. Refer to our FAQ article "How Do I Recover A Deleted Domain?" for more information.
---
Step 2: Set up your CNAME record with your hosting provider.
Your hosting provider is the company that you purchased your domain name from. Think of setting up your CNAME record as the 'call forwarding' of the internet. By setting up your cname, you're 'forwarding' all your site traffic to your Unbounce landing page.
Describing the process of adding a CNAME record varies wildly due to the fact that there are so many different hosting providers. Please check which hosting provider option belongs to you and follow the link from the list below to the proper instructions:
Once you've followed the instructions on the documentation for your hosting provider, come back to this page and continue down the page to Step 3.
---
Step 3: Hurry Up and Wait!
Now that you've set up your CNAME record at your hosting provider, navigate back to your Unbounce builder.
You'll notice that the domain you added to Unbounce earlier in step one is working hard to make the connection to your hosting provider.

You'll see a yellow Configuring notice that means that Unbounce and your Hosting Provider are working together to try to establish that forwarding connection so that your pages can show up on your domain.
This step can take as quickly as a few minutes, and in some extreme cases it can take up to a few days! This is a good time to take a break, have a cup of coffee, grab a bite to eat, or work on your next great landing page. If it's taking a long time to configure, no need to panic. However, if you'd like some extra assurance, you can follow some of our handy guides on this subject matter:
Once your domain is correctly configured and all set up you should see a lovely green Working and Secure message beside your recently added domain.

Hang in there, one more step to go! Now that you've gone ahead and added that domain, let's make use of it and add it to your landing page so that visitors can use that spiffy new branded domain to find your marketing campaign.
If you've got that green working and secure message go ahead and skip ahead to Step 4: Change the URL of your landing page in the Unbounce builder.
If you've got a red Error finding CNAME message like in the image below, read on to Step 3.5: Reconfiguring Your Domain Using the Retry Button.

---
Step 3.5: Reconfiguring Your Domain Using the Retry Button
You've waited a few days and now you see that sad error message that says that your CNAME domain configuration didn't work. Fear not! This can sometimes happen if you take too long between Steps 1 and 2, and wait a few days to set up your CNAME info with your hosting provider after adding your new domain to Unbounce.
Click the Retry button beside the domain that you would like to reconfigure. This will allow the Unbounce servers to go through the process of communicating with your hosting provider to get that domain up and running once more.

Once you click the Retry button a new dialog box will appear that contains information regarding setting up your cname information with your hosting provider (which we discussed in Step 2).
Once you've completed the process outlined in Step 2, go ahead and click the Got It, Retry Domain Setup button in the bottom right-hand corner of the dialog box.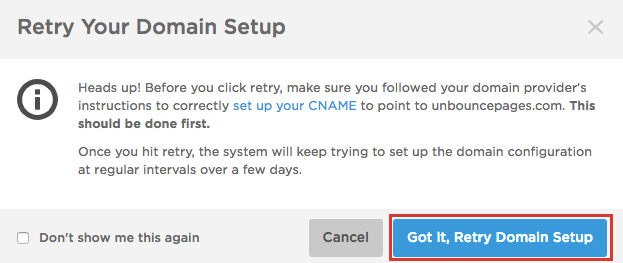 The Retry button will disappear once you've clicked the button, and your red CNAME error message will change to the yellow configuring message. This means Unbounce is now working to refresh your domain information.
This brings us back to Step 3: Hurry up and Wait! Go ahead and take that lunch break or work on your next landing page while we get that domain set up for you.
---
Step 4: Change the URL of your landing page in the Unbounce builder.
Let's use that newly added domain to give some extra Oomph to your marketing campaign. Follow the steps below to change the url of your landing page from Unbouncepages.com to your own custom domain for that extra brand recognition:
Navigate to the

Page Overview

for the relevant landing page.

Click the

Change URL button on the upper left of the page. A new dialog box will appear:


In the new

Change Page URL

dialog box, select the domain you wish to use for this page from the

Choose a new URL for your page

drop-down menu.

Customize your landing page final URL as desired.

Click the

Change URL button at the bottom right-hand corner of the dialog box to save your changes:

Congratulations, you've successfully set up your first custom domain for your Unbounce landing page!
---
Step 5: Enabling SSL
Once you've set up your domain, you can add an extra layer of security & encryption by enabling SSL. This will act as an extra layer of security, protecting visitors interacting with your landing page.
You can enable SSL (HTTPS) on all Unbounce domains connected via CNAME in a few easy steps. Navigate to the Domains tab on the left-hand side of the Unbounce App & toggle the Force 'https' on all non-WordPress domains button on the top-right:
Take a read of our documentation for more information about securing your pages with SSL, and some best practices to ensure that your page content is secure: How Do I Secure my Landing Page Domain with SSL?
Enabling SSL on WordPress domains must be set up outside of Unbounce. Follow our documentation for more insight on how to enable SSL on WordPress domains.
---
Glossary
For more information about CNAME records, how they work, and additional DNS terminology, head over to our glossary here.
Connect Your Domain Checklist
Connecting your domain can be a long and tedious process. Here's a to-do list to make your job a whole lot easier! Download this checklist to keep track of what steps you've completed to connect your domain to Unbounce.