This article will explain how and where to access & update your account information within the Account Management page. Within the Account Management page, you can also review plan allocations and upgrade/downgrade your subscription.  
Viewing Your Account Information
From the

 

Conversion Intelligence ™ Platform login page, select

 

Smart Builder & Classic Unbounce.
Once logged in, navigate the top right-hand corner and click the avatar.
Select Account Management from the drop-down menu:

A page will appear with additional menu options on the left-hand side. You can update your password/sign-in email and review other account information such as your subscription, billing details, number of Clients, Users, and more.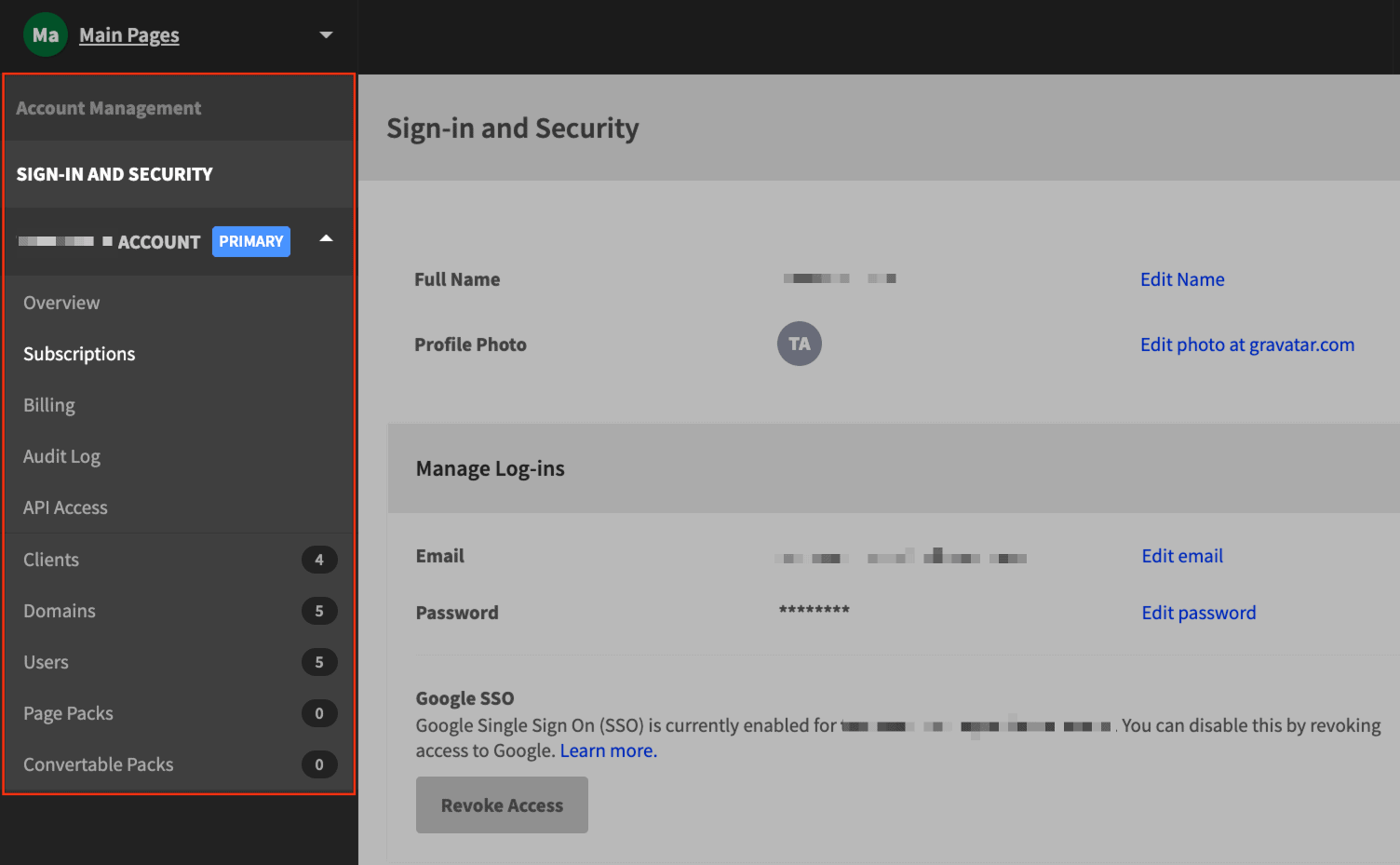 Updating Your Account Information
Sign-in and Security
From the Sign-in and Security section within the Account Management page, update login and security details relating to your account. In this section, you can:   
Change your name by clicking click the Edit Name button.
Update your profile picture by clicking the Edit photo at gravatar.com button.
Edit your account email and password within the Manage Log-ins tab.
Enabled Google's SSO on your account to allows for seamless login; see our documentation to learn more: Using Google Single Sign On (SSO). 
Set up 2 Factor Authentication (2FA) on your account to incorporate an extra layer of security for when you log in.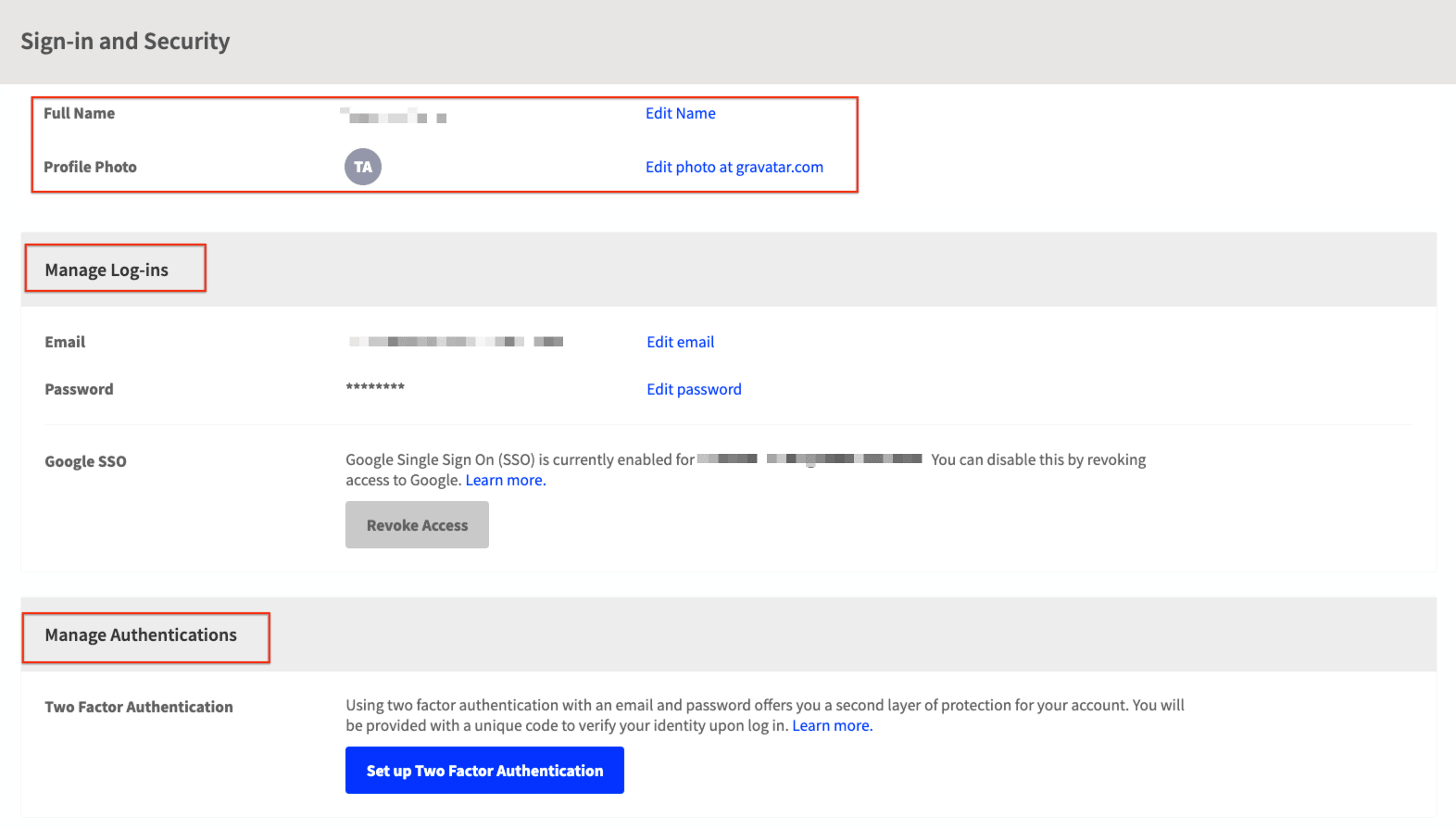 Account Overview 
The Account Overview section provides you with details about your subscription and options to update account information. 
From the left-hand menu of the Account Management page, select Overview. 
A new page will appear with details about your current plan type. Within the Subscription Details tab, you can find details about: 

Your current subscription. 
Your account stats, such as the number of connected domains or Users.  
Your plan limit usage; in other words, how many published pages, popups & sticky bars, Clients, and allocated traffic are left. 


Scroll down to the Account Information tab to input information relating to your business, such as: 


Your industry.
The number of team members who work at your company/agency.  
What you're hoping to achieve with Unbounce. 

Subscriptions
Navigate to the Subscriptions section of the Account Management page to upgrade, downgrade, or cancel your subscription plan. 
See the following articles to learn more: changing your subscription or plan type and canceling your subscription. 
Billing
Click the Billing section of the Account Management page to update payment methods for your account. See Adding a Payment Method and Editing Billing Details to learn more. 
Audit Logs
This feature is only available for Concierge plans. See Working With Audit Logs to learn more.  
API Access
Navigate to API Access to get started on Unbounce's open API.
Do note that APIs fall outside the scope of our Support. If you'd like to work with our open API, here is our developer documentation to help you started. 
Reviewing Your Account Allocations
Depending on your subscription plan, you will have access to a set number of monthly conversions, monthly traffic, and allocated domains: 
| | | | | |
| --- | --- | --- | --- | --- |
| Plan Type | Monthly Conversions | Monthly Traffic  | Number of Domains | Number of Users |
| Launch | 500 | 20,000 | 1 | 2 |
| Optimize | 1000 | 30,000 | 5 | Unlimited |
| Accelerate | 2,500 | 50,000 | 10 | Unlimited |
If you exceed the given number of conversions, traffic, domains, or Users for your subscription plan, you will need to upgrade to access more. 
See our documentation for more on changing your subscription plan and length, or reach out to our Support team for insight into which subscription plan would work best for you.
Related Resources 
Getting Started with Unbounce's Conversion Intelligence™ Platform: Logging In