When it comes to your online security, you can never be too careful.
Two-Factor Authentication (also known as 2FA) adds an extra layer of protection to your Unbounce account by requiring extra verification via a third-party authentication app on your smartphone.
Why do we use an authentication app instead of SMS? Simply because it's more secure (as phone numbers can be spoofed).
Here's how you can enable Two-Factor Authentication on your Unbounce account:
Click your name in the top right-hand corner of the Unbounce Builder and select

Account Management

from the drop-down menu. A new screen will appear.

In the new Sign-In and Security page, click the

Set up Two Factor Authentication

button under the Manage Authentications section at the bottom of the screen. A new dialog box will appear.

Follow steps one, two, and three in the

Two Factor Authentication Set Up

dialog box: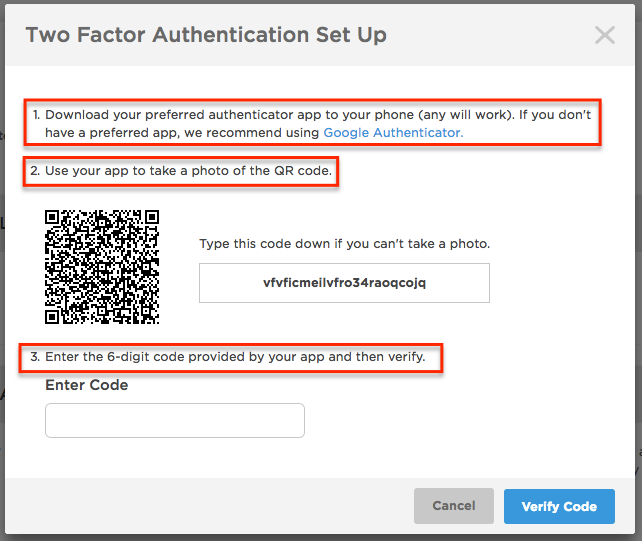 Download your preferred authenticator app from the Play Store or the App Store to your smartphone (any will work). If you don't have a preferred app, we recommend using

Google Authenticator

.

Use your app to take a photo of the QR code. If you can't take a photo of the code, type the provided code into your authenticator application.

Enter the 6-digit code provided by your app and then click the Verify Code button.
Check that the Set up Two Factor Authentication button has been replaced with a Revoke Access button to confirm that the setup has been successful.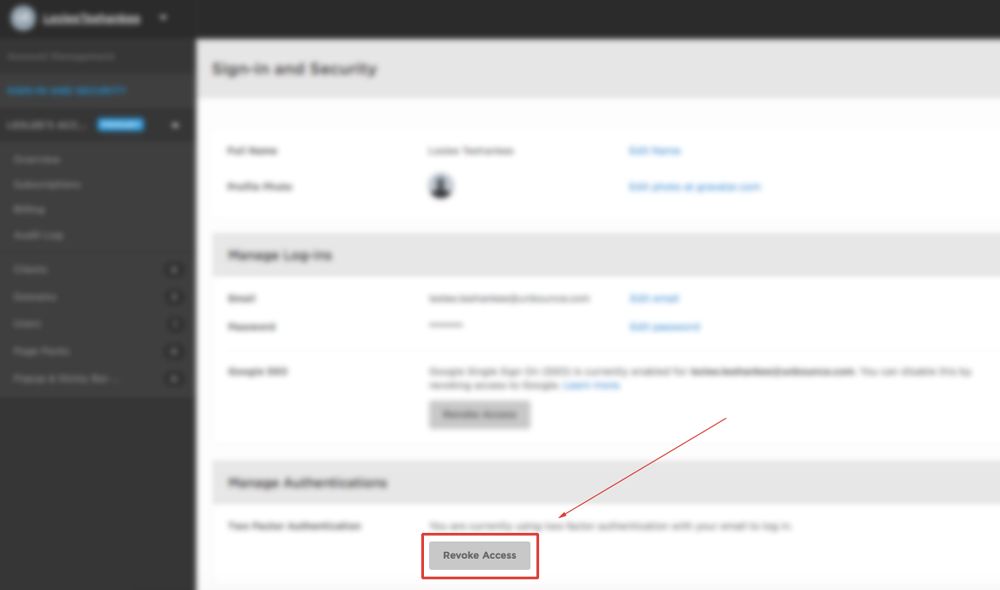 The next time you log out and log back into your Unbounce account, you'll be prompted to enter the authentication code provided by your authenticator app on your smartphone.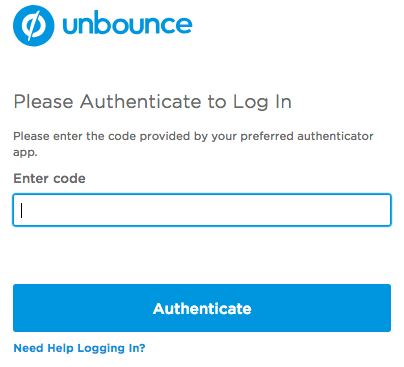 Note:
If you select the "Remember this browser for 14 days" option while logging in to your Unbounce account, two-factor authentication will also be bypassed for the computer you're presently using for the next 14 days (but not when you log in from other computers).
You're done, and your account's security is now enabled with 2FA!
I Lost My Phone! How Can I Regain Access to 2FA?
If you've lost your phone, you can reinstall Google Authenticator on a new phone!
Follow Google's instructions here regarding setting up a new phone with Google Authenticator.
If you're still having some trouble logging in, have your billing details ready, and our Support team can remove the 2FA feature on your behalf after verifying your account details.