What is SEO and How Can I Use it on My Page?
SEO stands for Search Engine Optimization. It sounds complicated, but simply put, it's the technique of optimizing your webpage so it'll appear higher in Google's search rankings.  
When you do a search on Google, you get two different kinds of search results: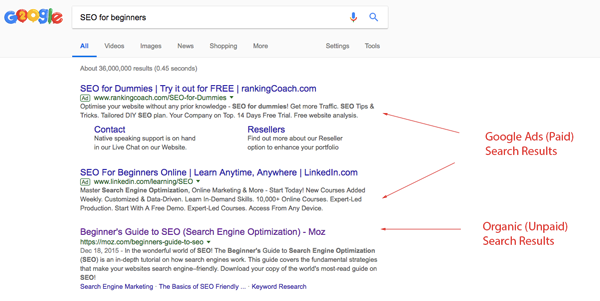 Google Ads is a paid service run by Google where you bid to have the highest position Ads search result based on the keyword that you feel pertains the most to your website.  
However, if you pay attention to your SEO, you can position your page's ranking so it appears high on the organic search results based on keywords from your webpage. This process is totally free and a great way to drive traffic to your page.
Organic search results are the outcome of Google's search engine crawling the web for the user's keyword input. Google uses 200 ranking factors to get the outcome of your keyword search.  
Using SEO to optimize your search results sounds like it should be a daunting task - and there are entire businesses formed around helping customers improve their page rankings using SEO. But applying SEO to your page doesn't have to be a complicated process. There are a few simple tricks that you can employ to help your page make its way up the google search rankings. Here are a few tips for you using the Unbounce editor to make your page SEO ready:
---
Title Tag, Description, and Keywords
Make sure to fill out your the Title Tag, Description, and Keywords field for your landing page.
You can find these fields by navigating to the Page Properties Tab on the right side of the editor and scrolling down to the section called Title & Meta Data.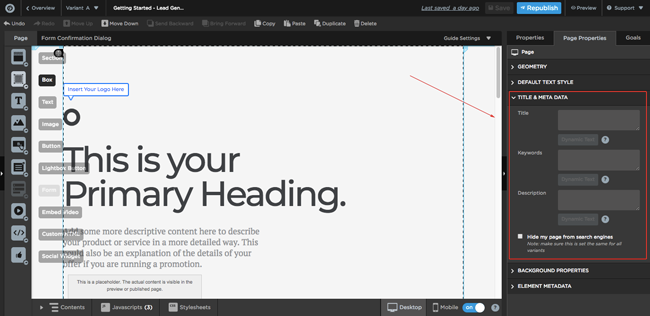 ---
Image Text
 It's good practice to add alternate text to all your images. Google reads image texts when it searches websites for SEO so it's another opportunity to improve your page ranking by adding both a title for your image and descriptions of what the image looks like. Image text also shows how your image pertains to your landing page and are a great way of adding keywords to help customers find your website through search engines.
 To add a title and description to your landing page images follow these instructions:
Click the image that you want to update.

On the right side of the editor, scroll down the

Properties

tab until you find the

Image Properties

section.

Fill out the pertinent information in the

Alt Text

and

Title

fields.

Repeat these steps for all images on your landing page.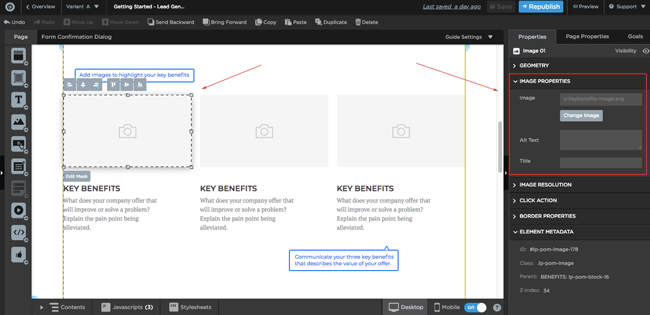 ---
Keywords and Content
 Google's search engine loves unique and and relevant content! It's great practice to do some research into keywords that pertain most to your landing page's business. While it's important to keep the writing on your website interesting and readable for your audience, you should try to incorporate possible google search keywords into your page content.
 These are the most basic steps that you can start with to help optimize your website for SEO. There are a lot of other ways that you can improve your website's search rankings. Do you want to know more? Here's some great links to get you fully onboard the SEO information station:
SEO for Dummies: What is SEO and How to Make Good Use of It
---
How Do I Submit My Webpage to Google?
Google's bots are constantly crawling the internet for new links and pages. However, if you'd like to ensure your page gets added to the index, you can submit your page to Google by using the URL inspection tool.  
Note:
It can take anywhere from a few days to a few weeks for Google to index your website.
---
Landing Pages on a Subdomain vs. The Subfolder of a Root Domain
It's possible to have landing pages be both helpful in improving conversions, and gaining organic traffic. In fact, our ebook landing pages are a great example --they get plenty of organic traffic!
Sending traffic from an email campaign to a homepage doesn't boost organic traffic directly, and it won't harm your SEO efforts if that traffic goes somewhere else. Because of that, there's no harm in using an Unbounce landing page.
There are some occasions when having more traffic to a homepage can indirectly improve organic traffic. Here's how:
If someone is unaware that company XYZ exists, they won't search for that company via a search engine.

If they somehow discover company XYZ's website via a traffic channel other than organic (i.e. an email or social share), they then land on the website and become brand aware. They'll be more likely to search for that company via search engines in the future because they're aware that the company exists and satisfies a need that they have.
In other words, the side effect of increased brand awareness is an increase in organic traffic.
---
More information on landing pages and SEO:
A Beginner's Guide to A/B Testing: Effective SEO Landing Pages
Why My Optimized Landing Pages Trump Your SEO Or PPC Landing Pages Every Time!