Pro Tip:
Did you know you can boost your marketing confidence by enabling Smart Traffic mode on your account? Find out more by reading our Getting Started with Smart Traffic documentation.
Conversion goals enable Unbounce to track the success of your landing pages.
This article describes how to set a conversion goal within the Classic Unbounce Builder, how conversion tracking works, and additional best practices.
Setting a Conversion Goal in the Classic Builder
Want to learn more on how to track conversion with Smart Builder? See our documentation: Setting Conversion Goals in Smart Builder.
You can choose the action you'd like to measure as a conversion by clicking on the Goals tab, then scrolling to the Conversion Goals section in the Classic Builder: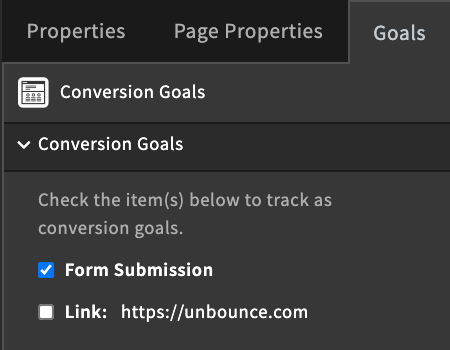 The suggested conversion goals provided include elements on your page such as links, text links, button links, or forms, any of which you can select to track as a conversion.
How it works
Let's say your visitor completes a conversion action, such as submitting to a lead gen form or clicking a specific link.
If you tick this element within the Conversion Goals section, any completion of that conversion action will count as a conversion within the Page Overview (form submission details will also track within the Leads table).
Working with Smart Builder?
Setting conversion goals in the Smart Builder interface is slightly different from the Classic Builder. See Setting Conversion Goals in Smart Builder for more details.
Setting Multiple Conversion Goals
While you can set and track multiple conversion goals, they will all count towards your total conversions count, as we don't yet have the reporting to let you separate the conversion stats. It's generally better to only have one conversion goal, but we recognize the importance of secondary calls to action.
It's on the list of improvements for the future. For more custom reporting, we recommend integrating your pages with Google Analytics.
Note:
Multiple conversion goal clicks from the same browser will only count once towards the total goal. This is due to the nature of conversion tracking with our Unbounce cookies.
Setting Up External Conversion Tracking in the Classic Builder
An external conversion is an action that takes place on a page other than your Unbounce landing page.
Unbounce allows you track external conversions by embedding our tracking script on your target conversion page. This is great when you're using an Unbounce landing page to drive online purchases or if the actual conversion action doesn't happen on the Unbounce landing page itself.
For more on how to set up external conversion tracking, see our documentation: External Conversion Tracking with Unbounce.