Getting Email Notifications for New Leads
You can set up Unbounce to automatically send you an email notification when one of your customers submits a form on your landing pages.
Want to Get an Email Every Time You Get a New Lead?
If you're like most marketers, you spend a lot of time hitting the refresh key to see how many leads your lead generation landing page is producing. Unbounce lets you automatically receive an email alert whenever you get a new lead.
---
How to set up email notifications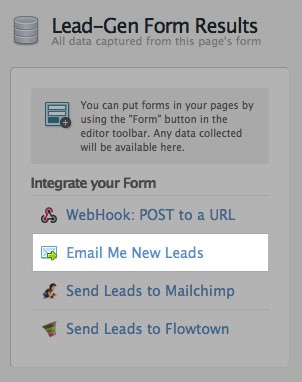 To set up email notifications for your lead gen landing pages, click the "Email Me New Leads" link on your page dashboard as shown opposite.
You can then add your email (or a series of multiple emails) that should receive the notification. The subject line of the email is fully configurable – and defaults to include the name of your landing page for easy identification.
That's it! You'll now receive an email whenever you get a new lead from your lead generation landing pages without having to touch the refresh key.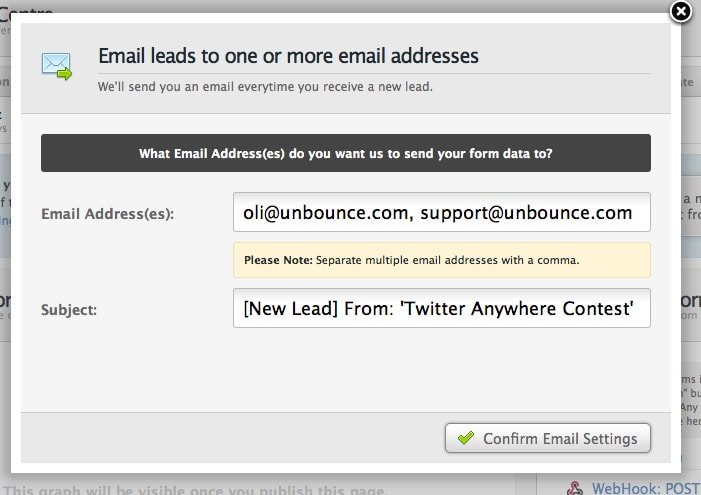 ---
Example Notification Email
Below is an example of what your notification emails will look like.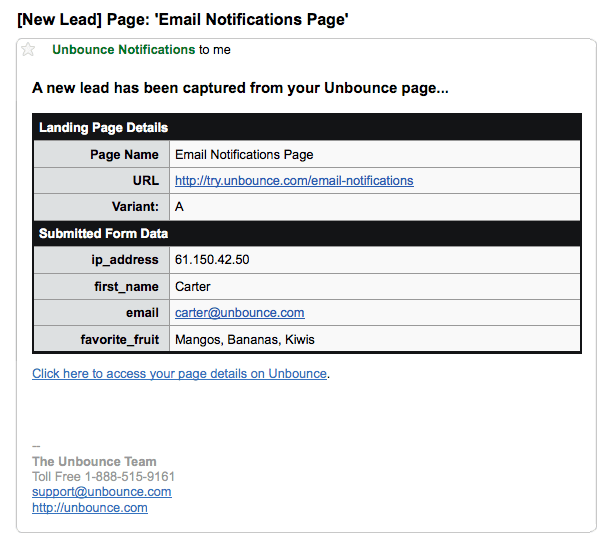 ---
Customizing New Lead Email Notifications
If you subscribe to email notifications for new leads, you can customize the content and appearance of those emails.
What you will need
What can you customize
The email footer and add your own branding
Who the email appears to be from
What fields are displayed in the email
The look and feel of the notification
Email templates are unique for every Client, which allows different settings based on the context the new lead is coming from.
How To Do It
Customizing your new leads notifications is easy, just follow the simple instructions below:

Log in to Unbounce
Select the Client you wish to change the email settings for
Click Settings in the lower left corner of your Dashboard
Open Email Templates from the list of settings


Select Customized email template
Update the HTML and Text as desired (See below for an example)
Preview HTML your changes to make sure you like them
Click Update Settings when you are done
---
Adding Company Branding
Make the email your own by changing the company name, phone number, and who the email appears to be from. Follow the steps below, replacing the company information with your own.


Change the name of the sender to one of your choosing:





This is the name of the sender only and does not affect the email address.

Change the HTML email to contain your company's name, email, phone number, and URL:


Change the Text email to contain your company's name, email, phone number, and URL:


Preview the HTML and Text versions of the email to check the changes you've made.
Click Update Settings when you are done.
---
Sending Confirmation Emails to Your Leads
Yes, you can do this by setting up your account with one of our email provider integrations and creating an autoresponder. You can read more about autoresponders with Mailchimp here.
---
Sending Unbranded Email Notifications of New Leads to Your Clients
This feature requires custom script.
It's easy to enable email notifications with Unbounce, but for the time being, these notifications will be Unbounce branded.  Thankfully, it's fairly straight-forward to work around this using our WebHook integration.
To send unbranded email notifications with Unbounce, there are three major steps:
Write a script to parse Unbounce form submissions and send email notifications.
Host this script on a server you have access to.
Setup a WebHook integration that points to this script.
1. Write a script to parse Unbounce form submissions.
You can use any language supported by the server you'll be using in step #2 below.
For your convenience, we've written and shared a sample PHP script to parse incoming Unbounce form submissions and send an email.  It is fully commented, so you can modify it to suit your needs.  Should you decide to use this script, you should have a developer audit it to ensure it is up to your security standards.
2. Host your custom script.
You'll need access to a server with email capabilities if you want to send email, so keep that in mind.  There are free hosting services like 0000free.com which offer email and PHP hosting.
When you have been granted access to host files on an email capable server, you'll want to follow their steps for uploading and serving a custom script.  You will also have to configure email for that host before the above script will work.
3. Setup a WebHook integration.
You'll want to familiarize yourself with our WebHook Documentation.  Basically, you'll add the URL for your custom script into the WebHook integration, then you'll be ready to go!
For the sample PHP script above, we grab the query parameter 'email_address' and use that as the destination for the email we are sending to.  This query parameter is sent as part of the WebHook URL.
As an example, here's a typical WebHook URL with no query parameters:
http://www.postbin.org/107rr7j
To use the same WebHook URL, but send an addition query parameter called "name" with the value of "George", you'd do this:
http://www.postbin.org/107rr7j?name=George
And to send multiple parameters looks like this:
http://www.postbin.org/107rr7j?param1=value1&param2=value2&param3=value3
The last example will send three parameters: param1, param2 and param3; with the values: value1, value2 and value3, respectively.
To make the sample PHP script send to a specific email address, you'd use an 'email_address' query parameter like this:
http://www.postbin.org/107rr7j?email_address=your_email@your_domain.com
Assuming http://www.postbin.org/107rr7j is where our custom script is hosted, the above line would send an email to your_email@your_domain.com.
Look at our WebHook Documentation to see how to do parameter replacement, if you want an email to be sent to a different address every time, based on the form submission data.  Ie., the email address it gets sent to is provided by the form submission itself.
---
Does Unbounce support HTTPS or host SSL certificates?
SSL is available on all Pro Unbounce plans. For more details, visit the article below:
Securing Your Landing Page Domain with SSL