Google Tag Manager is a tool that allows you to quickly and easily adjust tracking and marketing automation scripts for your pages from one centralized place. For more info on Google Tag Manager check out Google's documentation here.
---
Using the Unbounce/GTM Native Integration
Unbounce has an easy way to add the GTM code snippets to your page. Simply head to script manager and add a new script. Select "Google Tag Manager" from the dropdown menu and add your container ID: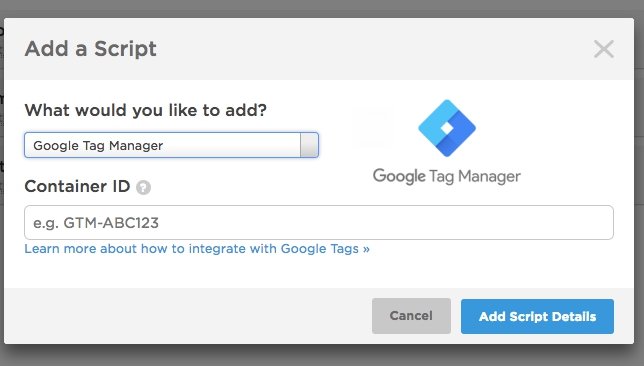 The native integration via Script Manager will automatically place the GTM code on your pages. This will not automatically send the form submission event to GTM, but will allow you to set up a listener within GTM to capture the form submit data layer.  
NOTE
Unbounce forms are submitted via an AJAX POST request, which makes it difficult to capture the form submission event when not using our native GTM integration. 
---
Manually Setting Up Your Google Tag Manager On A Page
Following Google's documentation on setting up and installing the container on web pages, copy and paste the code snippets onto your landing page's Javascript tab (or Form Confirmation Dialog) as instructed in the Install Tag Manager box. 
Republish your page so that the changes take effect.
Now you can control the tags included on your landing pages from Google Tag Manager!
If you want a little help with Google Tag Manager, check out Tag Manager Help below:
Google Tag Manager Help Centre 
Note
Looking for instruction on using gtag.js? Unbounce doesn't have a built in integration for Google's global site tag. You can learn how to build your gtag.js script here: Add gtag.js to your site. Then you can add the script to your landing pages using the Javascript console in the Unbounce page builder.
---