Build brand awareness by showcasing images & media content by embedding your Pinterest board in Smart Builder.
Quickly add a Pinterest board to your Smart Builder landing pages, with no coding required.
What You'll Need:
A Pinterest account with a live and public Pinterest board (have the link to your Pinterest board).
Installing the Pinterest App in Smart Builder
Navigate to the

Apps tab on the left-hand side of Smart Builder.
Search and locate

the Pinterest App.
Click the plus button next to Pinterest to

install

the app.
You may see a dialog box that appears, explaining that you can swap an element on your page with this App:

To learn more about changing elements, see our documentation: Changing Elements on your Smart Builder Page.
Once you've installed the App, you can apply it to the landing page.
Adding a Pinterest Board to your Page
You can replace any element on your page with a Pinterest board instead.
Your board(s) update in real time whenever you 'pin' new products on that specific Pinterest board.
Single-click the element in Smart Builder you'd like to replace with a Pinterest board.
Click the Change Element icon that appears at the bottom of the element.
Within the drop-down menu, locate the

Social Media

tab. Select

Pinterest

from the list:

A Pinterest placeholder will appear in the section.
Click Set Up a Pinterest Board.
Within the Settings that appear, update the following:

Type or paste in your Pinterest board URL.
Enter your Board Height (the desired length of the board on the page).

Click the Apply button, and the board will appear on the page:

To remove any vertical scrolling sidebars, increase the height of the board within the Settings

tab: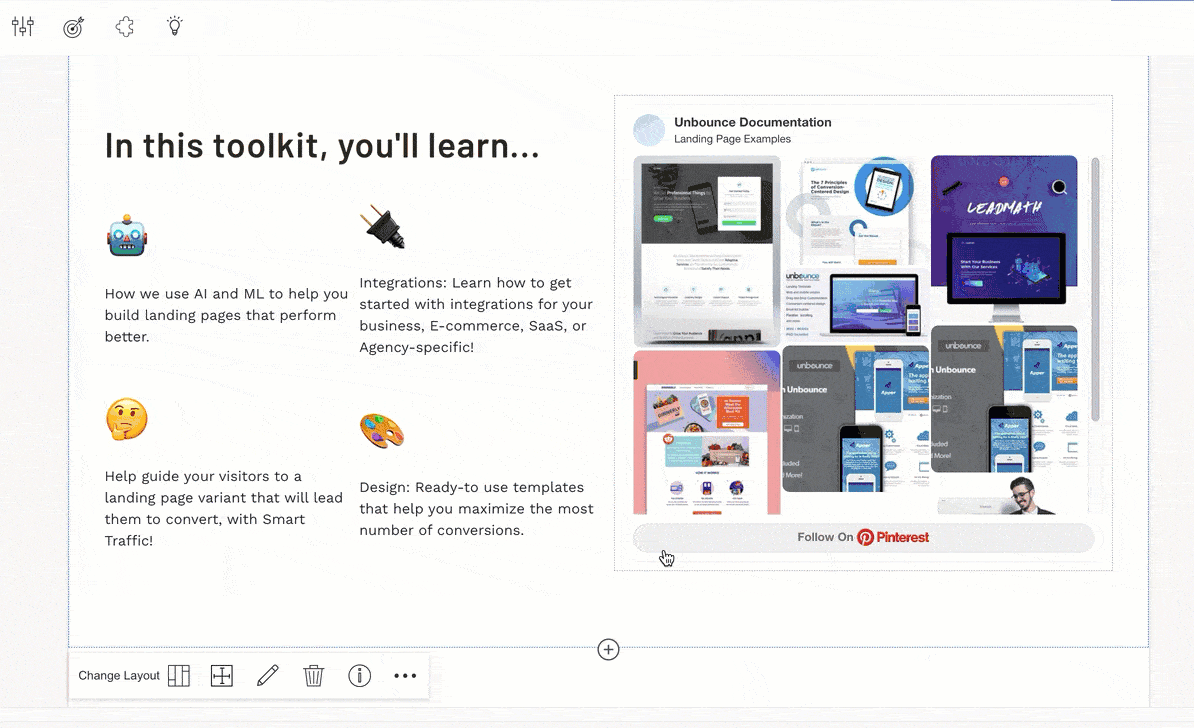 That's it! Be sure to Save & Publish your page to finalize these changes.