The Instant Quote Calculator App in Smart Builder provides your visitors a price estimate of the products or services mentioned on your landing page.
For example, your visitors can add up & calculate a rough estimate for products or services.
This article will explain how to add and customize the Instant Quote Calculator App in Smart Builder.
Installing the Instant Quote Calculator App
Navigate to the

Apps tab on the left-hand side of Smart Builder.
Search and locate

the Instant Quote Calculator App.
Click the plus button next to Instant Quote Calculator to

install

the app.
The Instant Quote Calculator section layout will appear on your page.
Select the template to apply it to Smart Builder as a new section:

Customizing the Instant Quote Calculator
Now that you've installed the app, customize it by adding the different products or services you offer.
Single-click on the calculator placeholder, and click the gear icon - the Calculator Settings will appear:

In the Calculator Settings, you can add your first product or service. Customize the following:

The name of the product or service you are selling (required).
The price of the product (required).
Limit the quantity of the product or service (optional).

For example, if your customers can only purchase a set number of items or services.

The type of currency - USD or CDN (optional).
A contact method to collect your page visitor's contact details. Either their email address or phone number (optional).

This way, you can contact your page visitor for more details about your product or service after they submit a quote.

The confirmation message that the customer will see after the price has been calculated. (optional).



After completing the fields, select Apply; this will add the product or service to the quote calculator.

The fields will refresh, and you can begin to add another product or service:

Be sure to Save and Publish your page once you're happy with your changes, or select Preview to test the calculator in action.
How does it work?
Your page visitor can add as many products from the list as possible.
The quote calculator will add up all the prices and provide an estimate at the bottom of the calculator.
In the example below, the total is $10.00: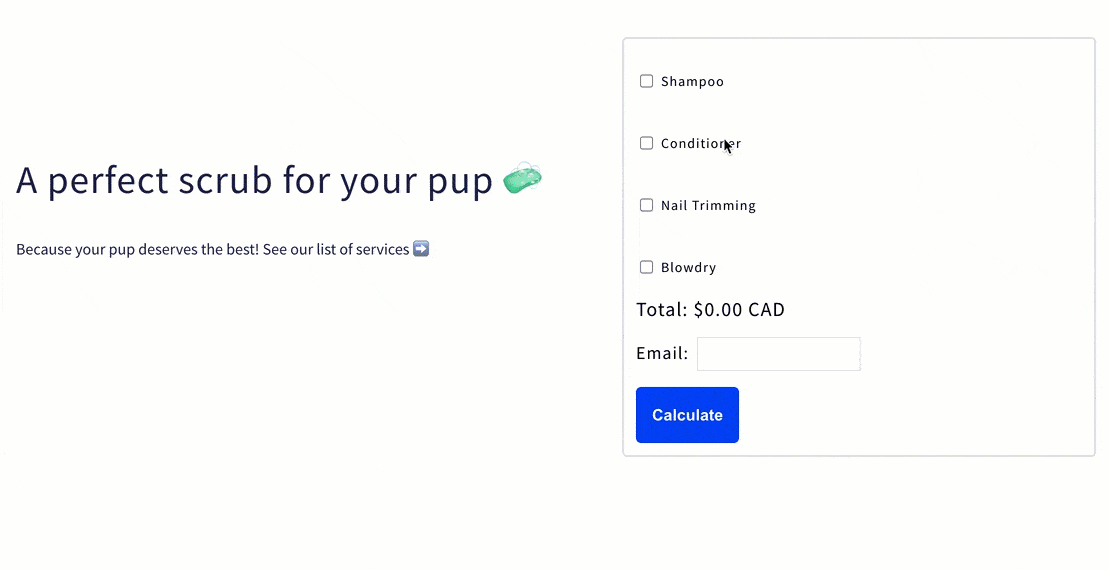 If your page visitor decides to leave their email address or phone number, their contact information will appear in the Leads table. In the example above, the email test@test.com will record as a lead and conversion (within the Page Overview).