Are you looking to add intro videos, testimonial videos, product demos, video ads, or more directly onto your landing page?
Add a video from Promo to your landing page to boost engagement and drive more conversions.
This article will explain how to embed a Promo video onto your landing page.
What You'll Need:
A Promo.com account with a video you've created on the platform.
Installing the Promo Video Maker App
Navigate to the

Apps tab on the left-hand side of Smart Builder.
Search and locate

the Promo Video Maker App.
Click the plus button next to

Promo Video Maker to

install

the app.
You may see a dialog box that appears, explaining that you can swap an element on your page with this App:

To learn more about changing elements, see our documentation: Changing Elements on your Smart Builder Page.
Once you've installed the App, you can apply it to the landing page.
Adding a Promo Video Element to Your Page
Now that you've installed the app, you can add a video into Smart Builder, by replacing a current element on the page with a Promo video instead.
Single-click an element on the page & click the Change Element icon.
Within the drop-down menu from the Change Element settings, scroll down and select Promo Video from the list (under the Media tab).
A Promo video placeholder will appear on your page:

Importing a Video from Promo
Next, you will need to copy your Promo video URL.
Navigate to the editor of your video in Promo.
Click the Save & Preview button at the bottom-left corner of Promo; the page that appears provides you with different embed and share options.
Select the Get video option.
A window will appear with the share link. Copy the link provided:

The video link will look something like this: https://promo.com/share/1234567890987654321.
Back in Smart Builder, locate the Promo video element and follow the steps below.
Single-click the Promo Video placeholder, and click the gear icon on the bottom-left. A small window will appear with the Add Promo Video setting.
In the Promo.com URL field, paste the URL of your Promo video:

Adjust the Playback Settings to your liking:

Autoplay: The video will automatically play once your visitors land on the page.
Loop Video: The video will continue to play again (i.e., loop) after it ends.

Click anywhere outside of the window, and the video will load in Smart Builder:

And that's it!
To test out the video in real-time, Preview your page, or publish it to test the live version.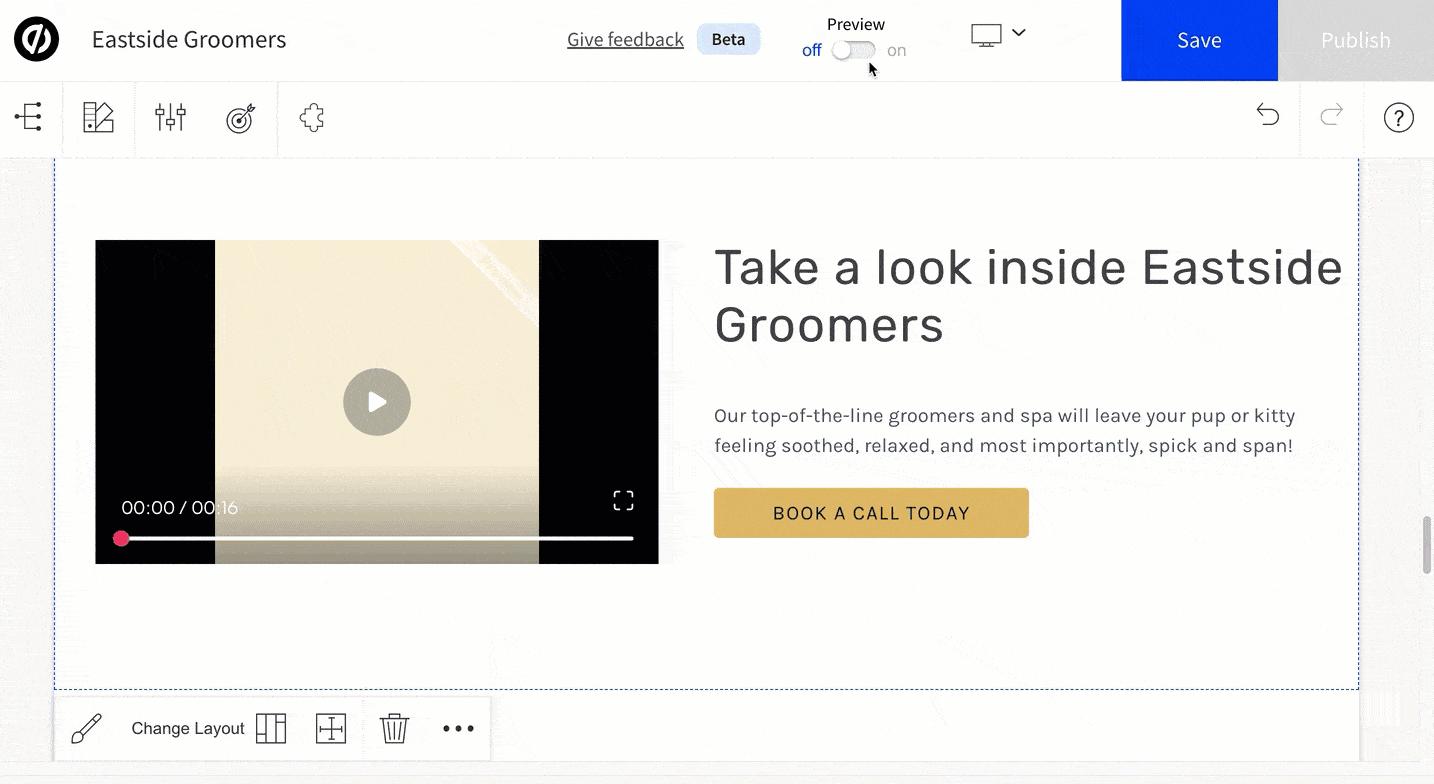 Be sure to Save and Publish your landing page to finalize these changes.