Unbounce popups or sticky bars are a great way to inform your visitors of upcoming promotions, share important headlines, test new promotions, and bring new users to your web pages!
This article will explain how to install an Unbounce popup or sticky bar onto your Smart Builder page, which includes four steps:
Installing the Popup/Sticky Bar App in Smart Builder.

Including tips on how to View your Popup or Sticky Bar.
Creating your Popup/Sticky Bar in Unbounce
To start, build and customize your popup or sticky bar in Unbounce Conversion Intelligence™ Platform.
Design your popup or sticky bar to your liking, adjust the trigger and frequency settings, and link to any custom integrations.
For more information, see these articles:
Creating a Popup in the Unbounce
Creating a Sticky Bar in the Unbounce
Copying your Popup/Sticky Bar Embed Code
Navigate to the Overview page of your popup or sticky bar.
Scroll down the page to the Installation panel.
Click the Copy button to copy the embed code:

Publish the popup or sticky bar at the top right-hand corner of the Overview:

You've now published your popup/sticky bar! Keep that embed code on hand, as you will need to paste it into Smart Builder.
Installing your Popups/Sticky Bar in Smart Builder
Navigate to the

Appstab on the left-hand side of Smart Builder.
Search and locate

the Popups and Sticky Bars App.
Click the plus button next to

Popups and Sticky Bars to

install

the app.
In the blank field that appears, input your unique popup/sticky bar embed code (see above steps on how to retrieve your embed code):

And that's it! Be sure to Save and Publish your landing page to finalize these changes.
Viewing your Popup or Sticky Bar
To view your popup or sticky bar, or test its functionality, be sure to publish your landing page.
Depending on the trigger or frequency settings, the popup or sticky bar will appear on the page: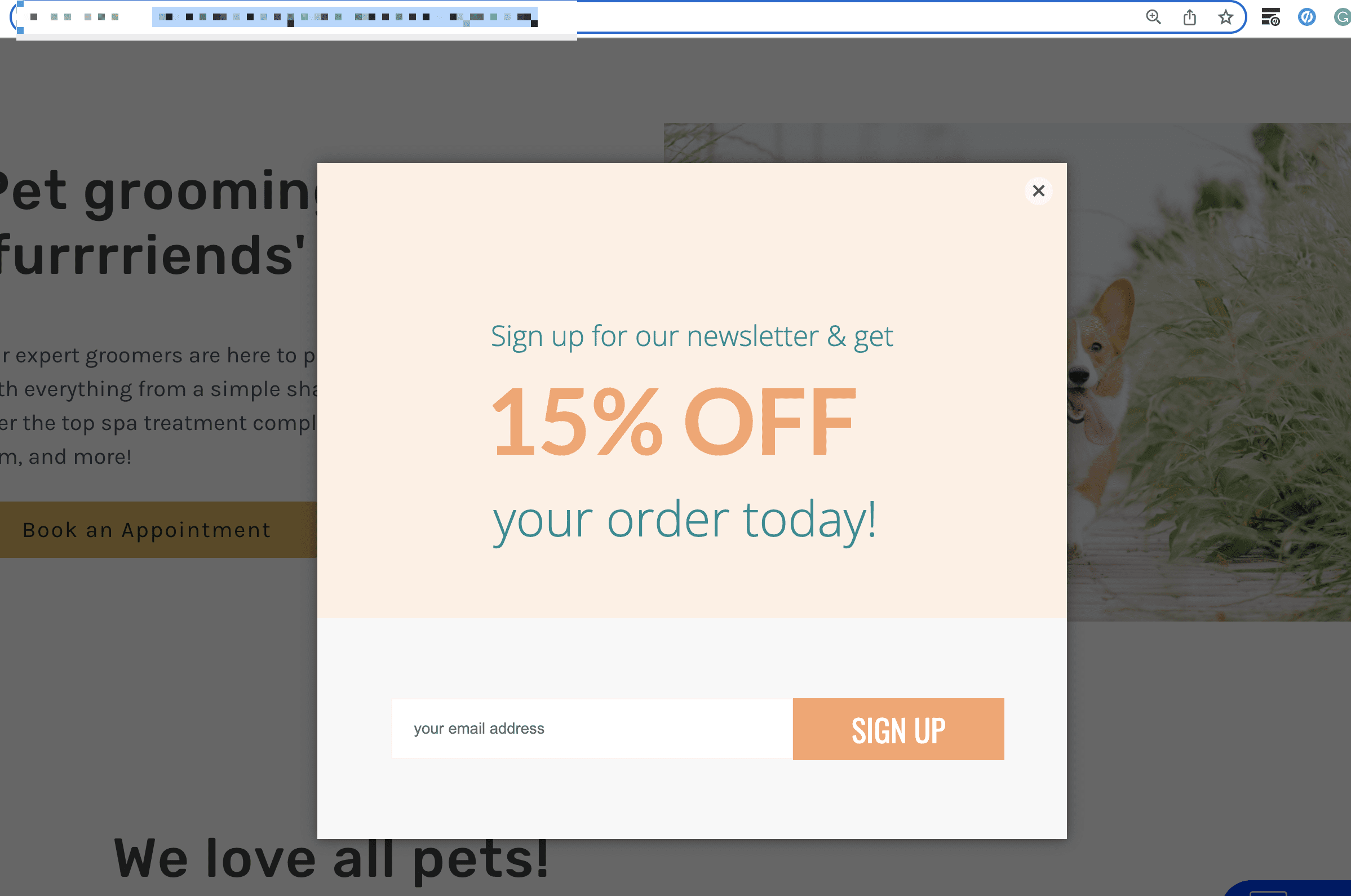 Having trouble viewing your popup/sticky bar?
It could be that your browser is caching the previous version of your landing page before the most recent republish.
Clear your browser cache and history, or navigate to your landing page on an incognito window to view the most up-to-date version.