This article will help you understand how to navigate the Smart Copy portal: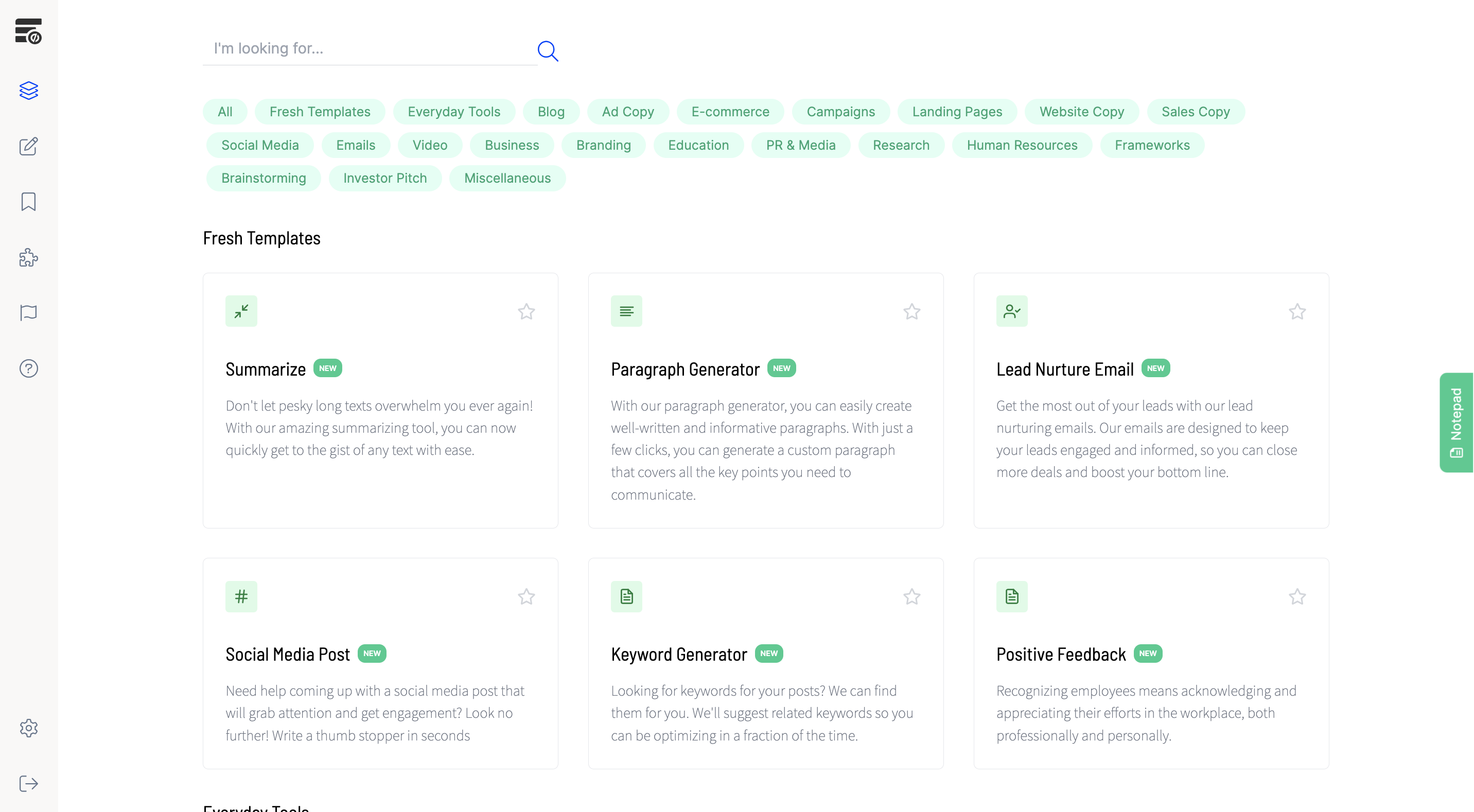 This layout is the same whether you're accessing Smart Copy in the Unbounce app (app.unbounce.com/ai-copy), Smart Copy web app (copy.unbounce.com), or the desktop app.
Use the Nav Bar on the left-hand side of the Smart Copy web app to navigate between different features, of the app or access the following features:
Templates
Check out all the recommended or latest Templates

in the Smart Copy app. Clicking on one will take you directly to the corresponding template page in the Smart Copy app.
See our documentation to learn more about working with Smart Copy Templates.
Writer
The Writer feature is available exclusively on paid Smart Copy subscription plans only.
The Writer

feature is the Smart Copy long-form writing canvas with no character limits. It allows you to generate and edit content directly in the application, save it, and return it at your convenience.
See working with the Smart Copy Writer feature to learn more about editing content directly in Smart Copy with the Writer feature.
Saved
Any time you create content in Smart Copy, you can save it directly in the web app! Access all previously saved content under the Saved

tab.
Learn more about saving content within our documentation: Saving, Copying, or Sharing Content.
Tools
Navigate to the Tools

section for more of Smart Copy's features, such as the Chrome Extension or Desktop App.
Check out our documentation to learn more: Using Smart Copy's Chrome Extension & Desktop App.
Feedback
Got some suggestions on how we can improve Smart Copy, or what you'd like to see in Smart Copy? Leave us some feedback using your Feedback

form!
Help
The Help

button redirects to the Unbounce Help Centre and all articles relating to Smart Copy to help you self-support.
Settings & Logout
Navigate to the Settings

tab to change or update account information, such as your name, email address, password, billing, or subscription type.
Within the Settings tab, you can also access your different Smart Copy Projects, and request API access.
Learn more about upgrading or canceling your Smart Copy subscription here within our documentation: How do I Upgrade or Cancel my Smart Copy Subscription?
Log out of your Smart Copy account by clicking the Logout

button at the bottom of the left-hand side of the Nav Bar.
Ready to get started with Smart Copy? See the following section to learn more: Working in Smart Copy.