This article will answer frequently asked questions about Smart Copy.
Is Smart Copy part of a paid Unbounce subscription?
Yes; Smart Copy is available to all Unbounce customers for free in 2023.
Smart Copy does offer paid plans which include more copywriting features, so you can upgrade if you wish to do so. See the pricing plans on our website to learn more.
See the following article: How Do I Upgrade or Cancel My Smart Copy Subscription?
Can I use Smart Copy in Unbounce?
Yes! Smart Copy is now available to use directly at app.unbounce.com.
Navigate to your Unbounce app homepage, and click the AI copywriting button on the left-hand side menu: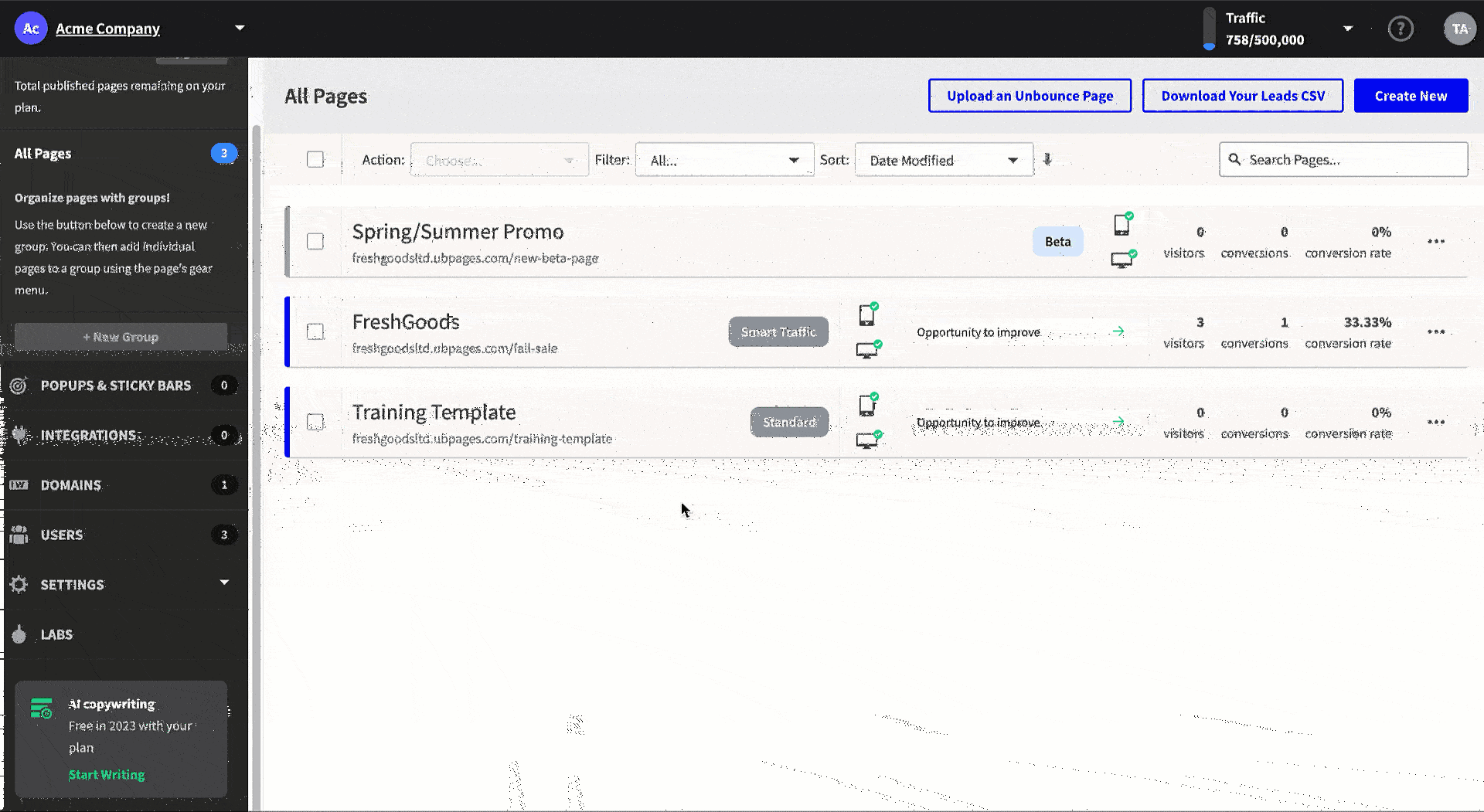 Log-in as usual, and the Smart Copy platform will appear directly in Unbounce.
How do I sign up for Smart Copy?
See our documentation for more insight: Signing up & Logging in: Getting Started with Unbounce's Conversion Intelligence™ Platform.
What is a Project? How many Projects can I create in Smart Copy?
A Project provides Smart Copy with insight into your company and other related information to your brand (such as your target audience or brand messaging).
Creating your project during the signup stage allows Smart Copy to better tailor content for your writing needs.
If you're on a Free plan, you are allocated 1 project only. With the Essential plan, you are allocated up to 3 projects.
With the Unlimited Plan, you can create an unlimited number of projects.
See our documentation to learn more about updating and adding new projects in Smart Copy.
What are credits in Smart Copy?
With a Smart Copy Free Plan ($0/month), you will have access to 10 credits per week to generate content.
You'll use a credit when clicking the Write More button to expand, remix, or write content.

If you'd like to access unlimited credits, you can upgrade to an Essential or Unlimited Smart Copy plan.
What is the difference between Smart Copy, and Copy Insights found in Smart Builder?
Functioning with the same technology, Copy Insights, powered by Smart Copy, is an AI-powered tool that provides high-converting copy recommendations in Smart Builder.
For now, Copy Insights is available in Smart Builder and provides headline recommendations alone. Paragraph and full-page copy recommendations coming soon.
Smart Copy is an AI-powered copywriting assistant that writes professional copy. Generate copy in-app or via the Chrome extension and use it in the Smart Builder or anywhere else you need it.
Pro Tip:
Pro-Tip: Use Smart Copy's Chrome Extension to create, remix, summarize, and expand copy in any platform e.g., Smart Builder, Facebook, Gmail, Shopify, at no added cost.
What languages does Smart Copy copy creation support?
Currently, Smart Copy can remix, rewrite, summarize, and provide copy suggestions in over 30+ languages, including:
| | | | | |
| --- | --- | --- | --- | --- |
| English | Spanish | French | German | Portuguese |
| Chinese (Simplified) | Croatian | Czech | Danish | Dutch |
| Bulgarian | Estonian | Finnish | Greek | Hebrew |
| Hindi | Hungarian | Indonesian | Italian | Japanese |
| Korean | Latvian | Lithuanian | Norwegian | Polish |
| Romanian | Russian | Slovak | Slovenian | Swedish |
| Tagalog | Thai | Turkish | Ukrainian | Vietnamese |
Can I use Smart Copy's Google Chrome Extension in Unbounce?
With any Smart Copy subscription, you can download the Smart Copy Chrome extension at no added cost.
The Smart Copy Chrome extension allows you to remix, rewrite, summarize and expand copy in any Unbounce landing page builder (Smart Builder and Classic Builder).
How do I upgrade my Smart Copy subscription?
See our documentation for steps on upgrading your Smart Copy subscription.
Does Smart Copy have an open API?
At this time, you can request access to Smart Copy's API.
In Smart Copy, select the Settings tab.
Click the API heading, select the Request Access button:

A form will appear on the page where you can input your details and reasons for the API request.
A member of the Smart Copy team here at Unbounce will reach out with more details.
Where can I use Smart Copy?
Since Smart Copy is a separate product offering of Unbounce, you can use its features outside of Unbounce as well, for any writing or content-related work, such as writing emails, blogs, social media posts, etc.
The Smart Copy web app offers multiple templates and tools to help you generate copy or remix, or revamp existing copy. You can also download the Chrome extension. For more details, see the following articles:
How Do I Use Smart Copy in Unbounce's Conversion Intelligence™ Platform?
Applying Smart Copy Everyday Tools
I had a free account with Smart Copy before, and I'm having trouble logging in now - can you help?
Password managers in your browser may autofill with credentials prior to the release of Smart Copy. The fix? Reset your password and follow the email instructions to reset your login credentials.