What is Copy Insights, you ask? Well, Copy Insights will provide high-converting copy recommendations when editing your page headings in Smart Builder.
You can then select the highest-converting copy, or an alternate one if that aligns with your landing page message, tone, or need.
This article will explain and provide steps on how to apply recommendations from Copy Insights in Smart Builder.
How does Copy Insights Work?
The Copy Insights tab will blink green if Smart Builder identifies an opportunity to improve some copy on your landing page. Once you've updated the text on your page, Copy Insights will do some work in the background to analyze over eleven years of conversion data, and provide you with copy rewrite recommendations to apply directly onto your landing page.
Copy Insights For Headlines in a Hero Section
Log in to Unbounce and launch your landing page in Smart Builder.
Navigate to the Copy Insights icon within the Smart Builder header.
If the Copy Insights tab is flashing green, that means there is an opportunity to update your page headers with recommendations:

Note:
Not seeing the Copy Insights icon in Smart Builder's header? It may be because you've applied the Copy Assistant to your landing page during page setup. At this time, you can only apply either Copy Insights or Copy Assistant onto your landing page, not both.
Get started by clicking the Copy Insights tab. A small window will appear on top of your landing page to Enter copy to get recommendations.

Type-in your headline text:


Remember: Copy Insights will provide you with copy recommendations depending on what you type in during this step.

When you've updated the copy, click the Generate Recommendations button.

Wait for the suggestions to generate, and choose from the list of available copy suggestions:


Once you've selected the recommendation, click Apply to input the copy change onto your landing page.
Copy Insights For Paragraphs in a Hero Section
In order for Copy Insights to work with paragraph texts, you must follow the same flow as headline Copy Insights; you'll be presented insights for your hero section paragraph afterward.
Complete and apply Copy Insight recommendations for your header text.
After clicking Apply to input copy recommendations for the header text, Copy Insights will begin generating recommendations for paragraph text.
Click Apply to input the recommendations. Here is a gif example:

Click the blue Save button at the top-right-hand corner of Smart Builder to save your page and these changes.
Understanding Copy Insights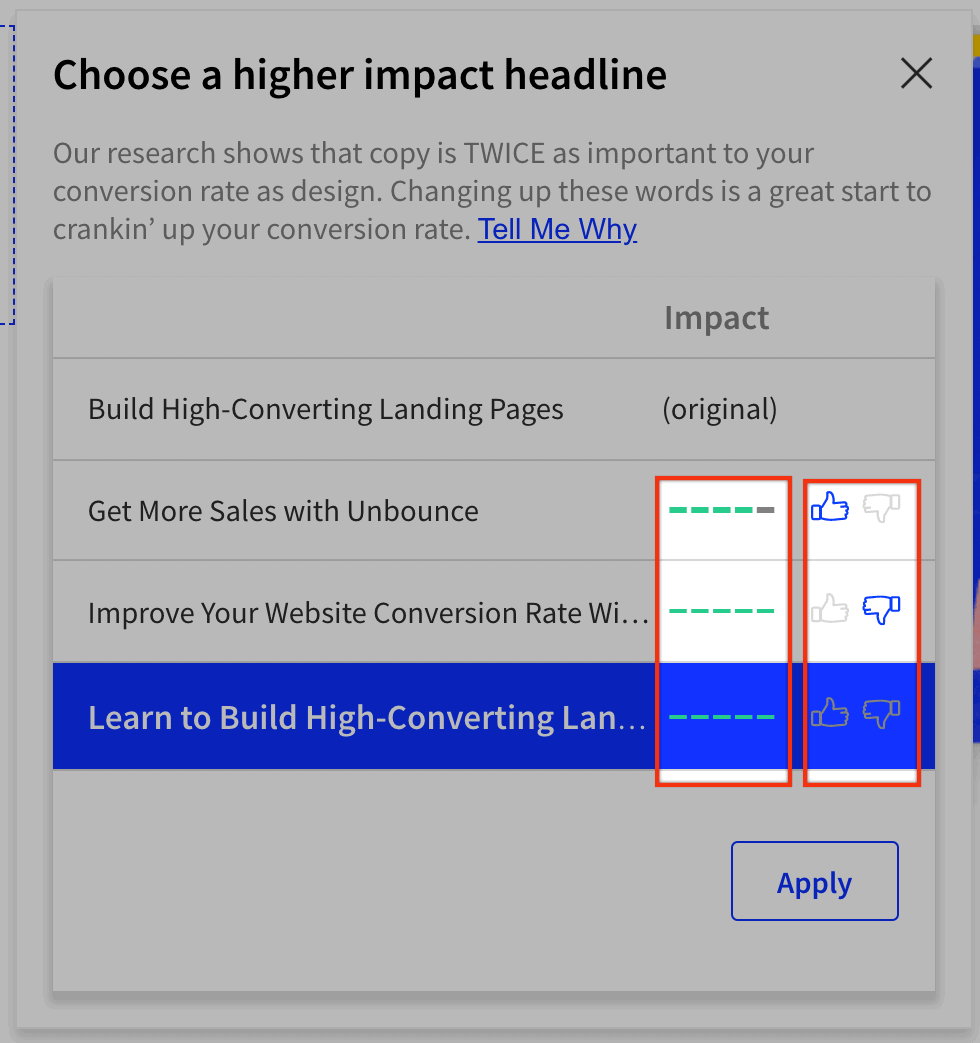 Green impact Meter: this meter indicates the predicted effect on your conversion rate if you chose that headline option; the more green bars, the more confidence.
Thumbs Up & Thumbs Down: share your feedback on how accurate the suggestions are by providing a thumbs up (accurate) or thumbs down (not accurate) rating.
Glossary
Copy: Written copy, sometimes referred to as marketing copy, is the chosen text (for example, headings & paragraphs) on your landing page that coincides with your page purpose, branding, objectives, and more.
Copy Insights: Copy optimization for landing page headlines; an AI-powered tool that will provide recommendations on higher converting copy when editing in Smart Builder.