Conversion goals allow you to keep track of your page's performance. Through measuring your conversions, you can keep informed of your page's performance and optimize for better results.
With Smart Builder, you can track the success of different actions on your page - such as form submissions, clicks to buttons, or links - as conversion goals.
Setting a Conversion Goal
Log in to Unbounce and launch your landing page in the Smart Builder.
Navigate to the Conversions tab on the left-hand side. A new tab will appear on the left.
Here, you'll see a list of available conversion goals to track:

A conversion goal is enabled on your landing page by default, on either a form submission or a link.
To track an action (or a different action, such as a form submission, link click, etc.) as a conversion goal, tick the box to the left of the element:

Be sure to Save your page that's it! You've now set a conversion goal for your landing page.
How Conversion Tracking Works
If a visitor completes an action on your page that you have set as a conversion goal, such as submitting to a lead gen form or clicking a link on a piece of text or button, that will be counted as a conversion within the Page Overview.
Do note that form submission details will record within the Leads table.
How to Track an Action as a Conversion Goal
By default, form submissions and any embedded links within a button or text will appear as a goal to track within the Conversions tab.
Adding a form onto your page will require inserting a new section on your page that includes a form. See our documentation for more info on Section Templates.
For more insight into embedding links within buttons or texts (to track them as conversion goals), see Editing Text in the Smart Builder.
'No URL defined' Warning Message with Conversions
You may notice a message within the Conversions tab that reads No URL defined: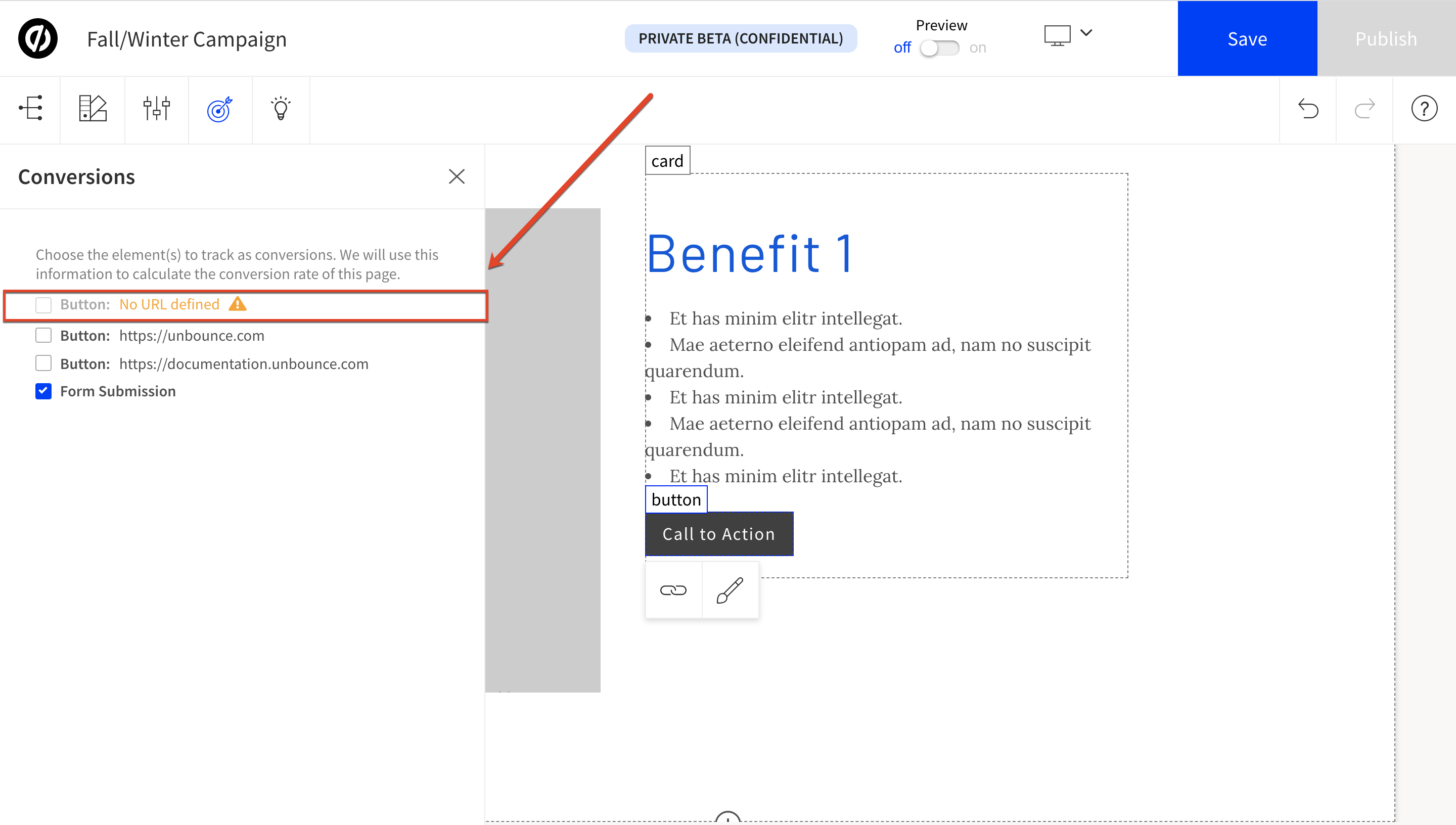 This means that there's an element on your page (most likely a button) that does not have a link added to it yet, meaning we'll need to update the contents of this element to track it as a conversion.
Conversion Tracking Directly Within Buttons
Toggle the slider button to enable conversion tracking on a link nested within a button: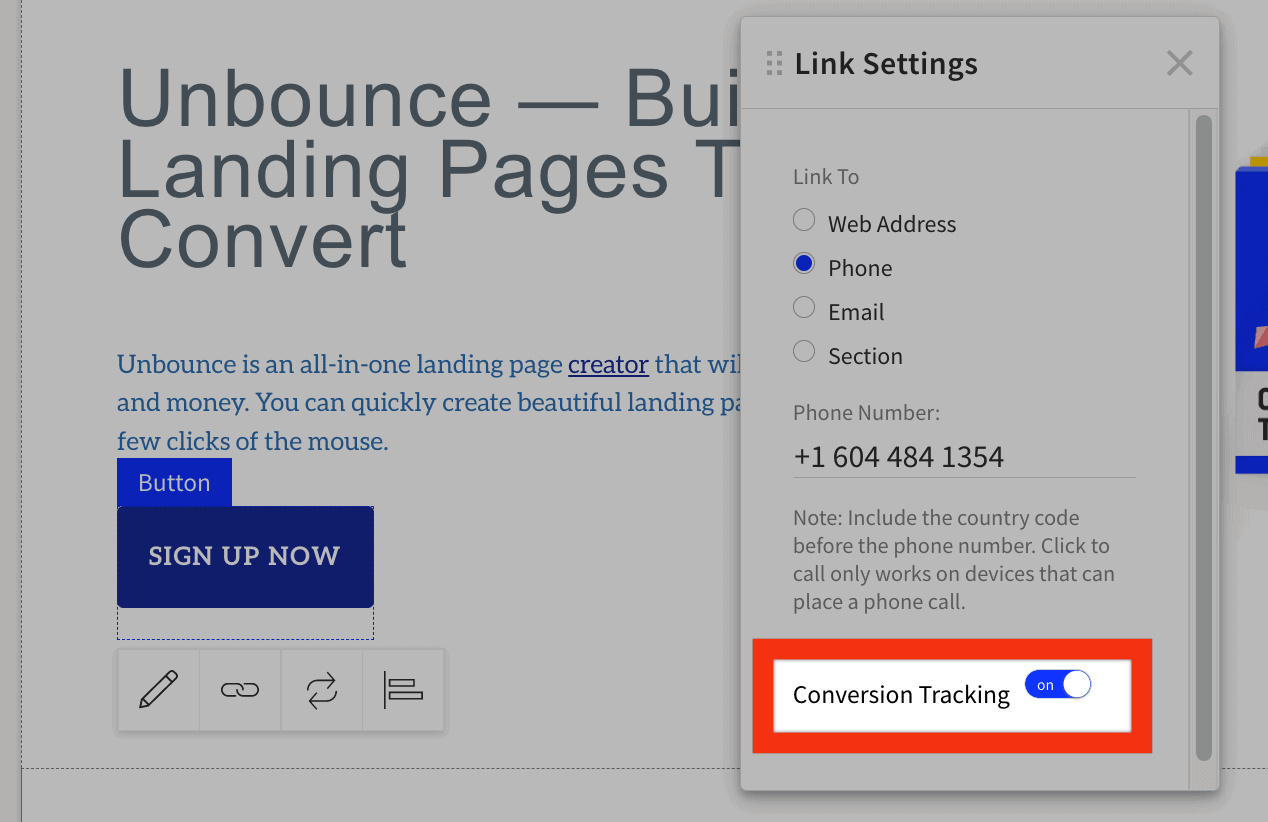 This will automatically track the button click action as a conversion. See our documentation to learn more about Adding and Editing Buttons in Smart Builder.
Setting Multiple Conversion Goals
Though you can tick multiple actions to track as conversion goals, we recommend setting one conversion goal per landing page only.
External Conversion Tracking with Smart Builder
An external conversion is an action that takes place on a page other than your Unbounce landing page.
For example, if your page visitors purchase an item on your website and want to track that purchase, you can utilize external conversion tracking.
What You'll Need
A thank-you page or confirmation page (the page that follows the conversion action).

This includes editing access to the source code of this page, since external conversion tracking works with the help of a unique tracking script.

A Smart Builder page.

A Smart Builder page and conversion confirmation page must exist on the same root domain.

For example, an Unbounce page with a URL of "promo.mycompany.com" and the conversion confirmation page with a URL of "www.mycompany.com" will work with external conversion tracking, since the root domains (mycompany.com) are the same.
Here are steps on how to set up external conversion tracking with your page in Smart Builder.
Navigate to your landing page in Smart Builder.
Click the Conversions tab on the left-hand side. A new tab will appear on the left.
Untick all conversion goals:


You must untick all conversion goals for external conversion tracking to avoid tracking discrepancies.

Save your page in Smart Builder.
Repeat for all page variants (if you have more variants).

Navigate to the external page that visitors will land on once they complete the conversion action:
Launch the source code, and insert the following script. Be sure to place the script before the closing <body> tag:
You're all set! If a visitor follows the page funnel (landing page > conversion action, such as a form sign up/purchase, etc., > thank-you page), the external tracking script will count a conversion.
You can view the conversion count within the Page Overview of your Smart Builder page.
Can I use External Conversion Tracking in Smart Builder with Smart Traffic?
Yes, external conversion tracking will still work as expected with Smart Builder pages enabled with Smart Traffic. Check out our documentation to learn more about Smart Traffic.
Remember to untick all conversion goals in Smart Builder when setting up external conversion tracking, as explained in the above steps. This will not impact the functionality of Smart Traffic.
Related Articles
Updating your Page with Copy Insights