Our friendly support team is always happy to help you with any questions that you may have!
The easiest way to reach the support team is by clicking the Question Mark in the top right corner of Unbounce, and selecting Contact Us.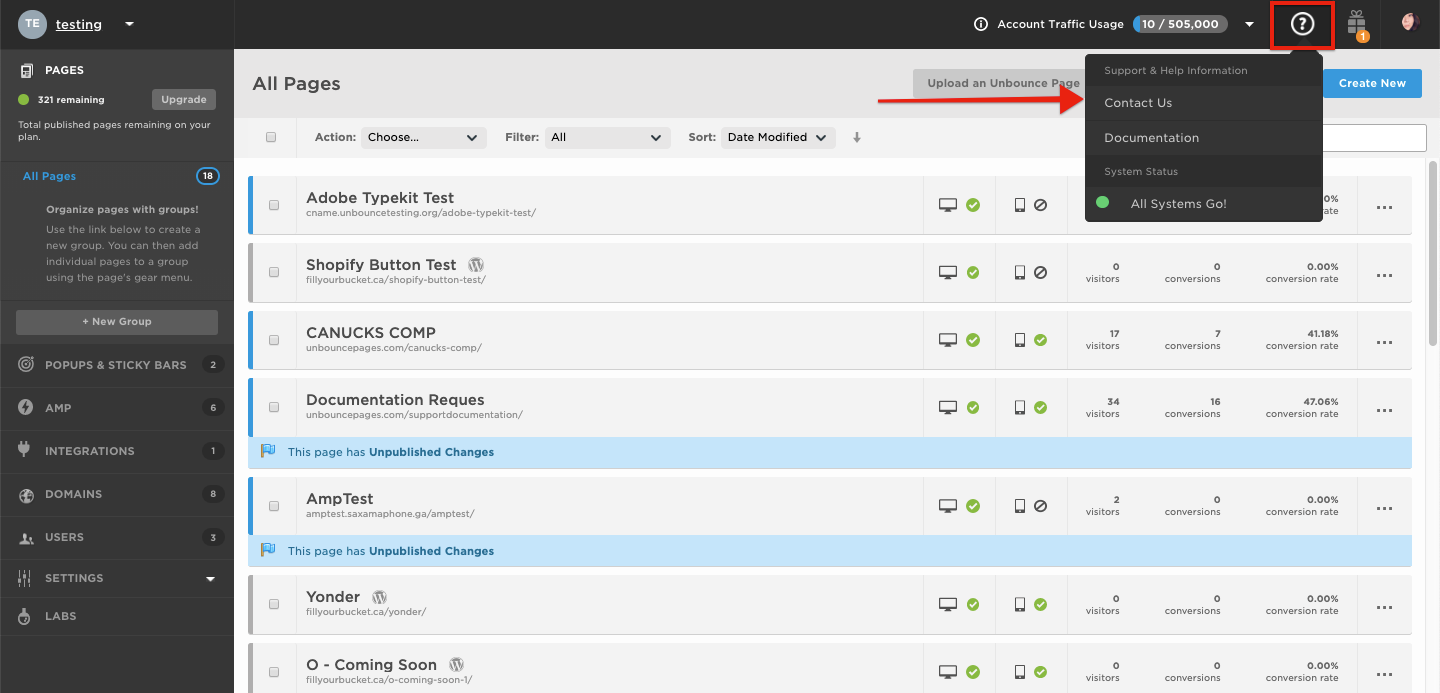 The chat window will appear in the bottom right corner. Type in your question, and our Answerbot will present you with some options from our help center that may give you the answer you need without having to chat with our support team.
If none of the options presented help, click the Get in touch button. You'll be given two options:
Live Chat: you'll be connected to our chat queue, and our next available support team member will join you at the earliest availability.
Leave a Message: Your message will be submitted to our ticket queue, and a member of our support team will reach out to you by email to help you with your issue.
Note:
If you're calling after hours and out of our availability, the Live Chat option won't be available, only leave a message.
Using our live chat is the most effective way of getting Unbounce support! Through live chat, our support team can help you with screenshots and screencast videos to make the troubleshooting process a smooth, pain free experience.
Note:
Are you currently evaluating Unbounce and want to hear more about our different pricing options? Please contact our sales team at sales@unbounce.com.
Our availability:
M-F : 1AM to 8PM PST - phone, live chat and email
S-S : 9AM to 9PM PST - email
Note:
You may experience slight delays in response times outside of normal weekday support hours.
Our contact info:
Email: support@unbounce.com
Phone:

Worldwide: 1 604 484 1354

North America (Toll Free): 1 888 515 9161

Australia: +61 1800 861 218

UK: +44 808 178 0202

Germany: +49 800 505 2740