The Page Overview will be your go-to source for reviewing and managing your page, enabling different testing features, viewing your leads, setting up integrations, and more!
This article will explain each of the different tabs within the Page Overview:

Clicking each tab will load a new page, giving you access to different functions or features for your landing page.
Overview
Log in to the Unbounce Conversion Intelligence™ Platform, and click on a page from the All Pages screen to launch the Page Overview: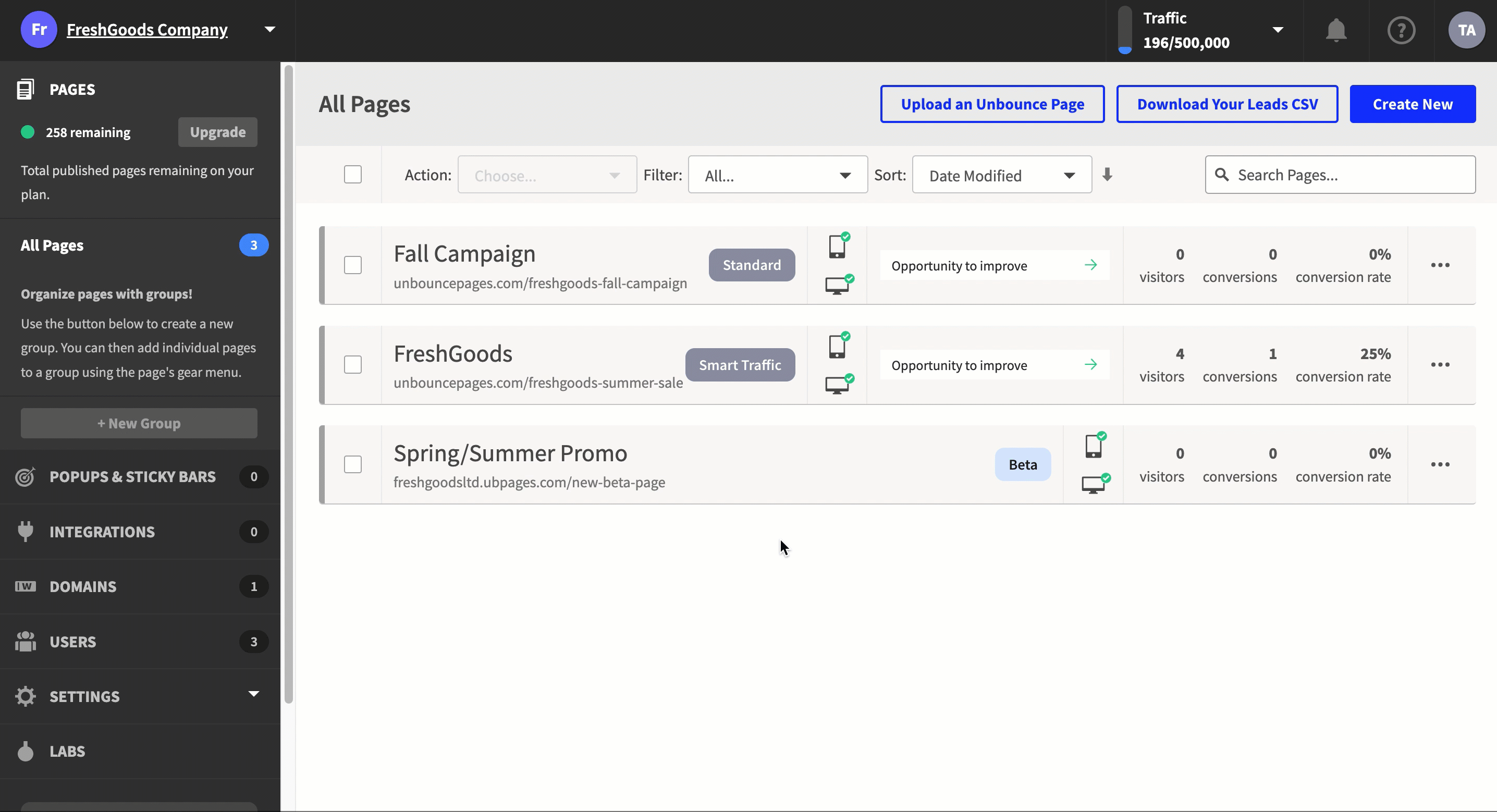 Here, you will see additional tabs relating to your landing page. You can access the following functions within the Overview tab: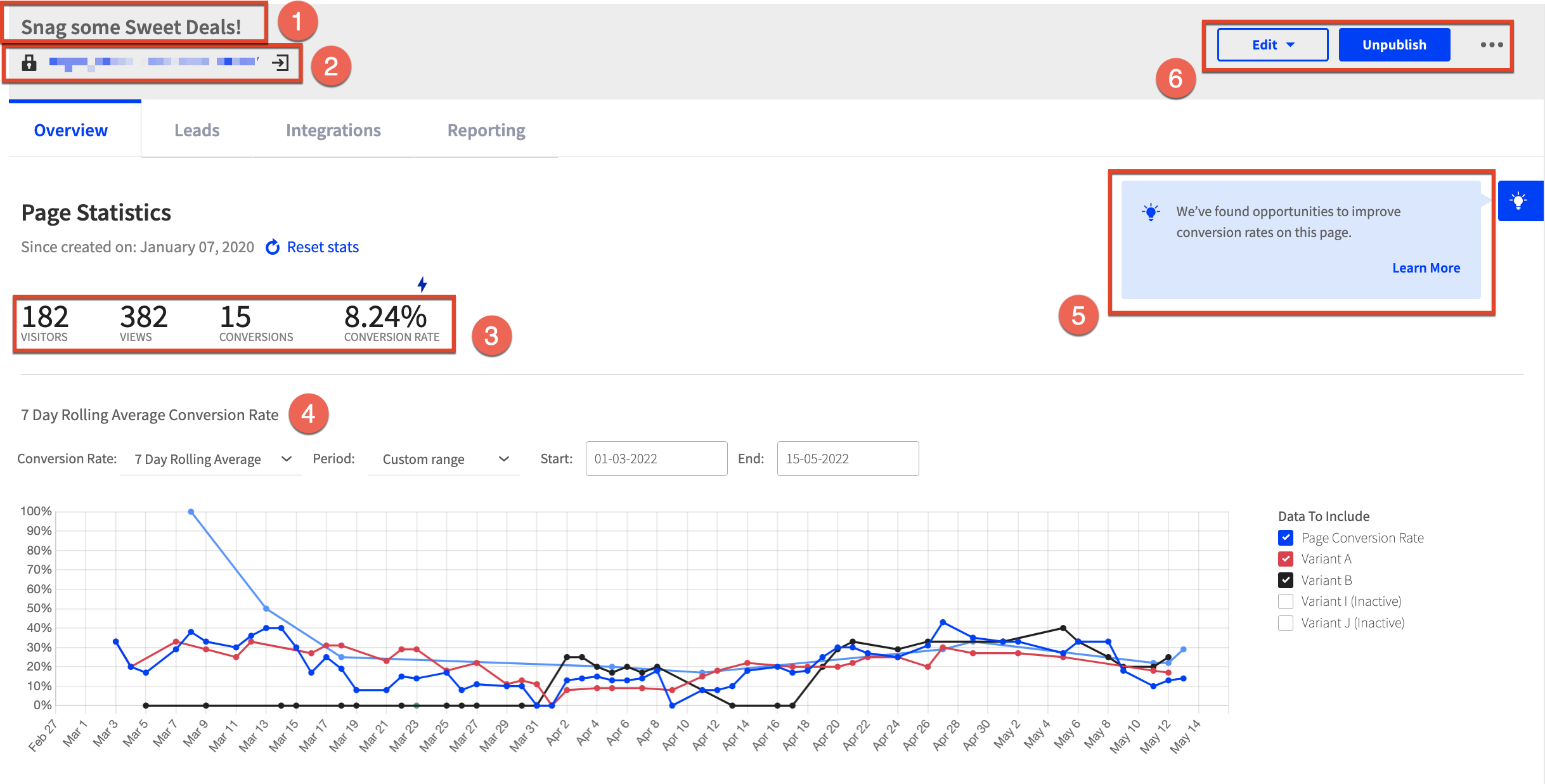 Change the title of your page by hovering over the title and typing in a new page name. 

Customize your page's URL by updating the page's domain and page path by clicking the Change URL button. See these articles to learn more:

These stats show your page's all-time tracking. You can refresh the stats, which will start tracking from 0 again; refreshing stats is irreversible. 

Review a visual graph of your conversion rate over a specific date range (and, if applicable, for each page variant).

See this article for more on the conversion rate chart: Understanding the Conversion Rate Chart. 
Powered by years of conversion data, you can view tips and tricks on improving your page's conversion rate. Click the Learn More button to see insights on optimizing your page.
Click the Edit button to edit any one of your page variants.

When you're ready to publish your page, click the Publish button or the drop-down to schedule publishing at a specific time. 
Click the ellipses icon (three dots) to view more options, such as previewing your page, changing the URL, downloading your page, and more:

Once you're page is published, you'll also see an option to Unpublish your page. 

If you've created a variant for your page, scroll down the Overview page to see the different Page Traffic Mode options: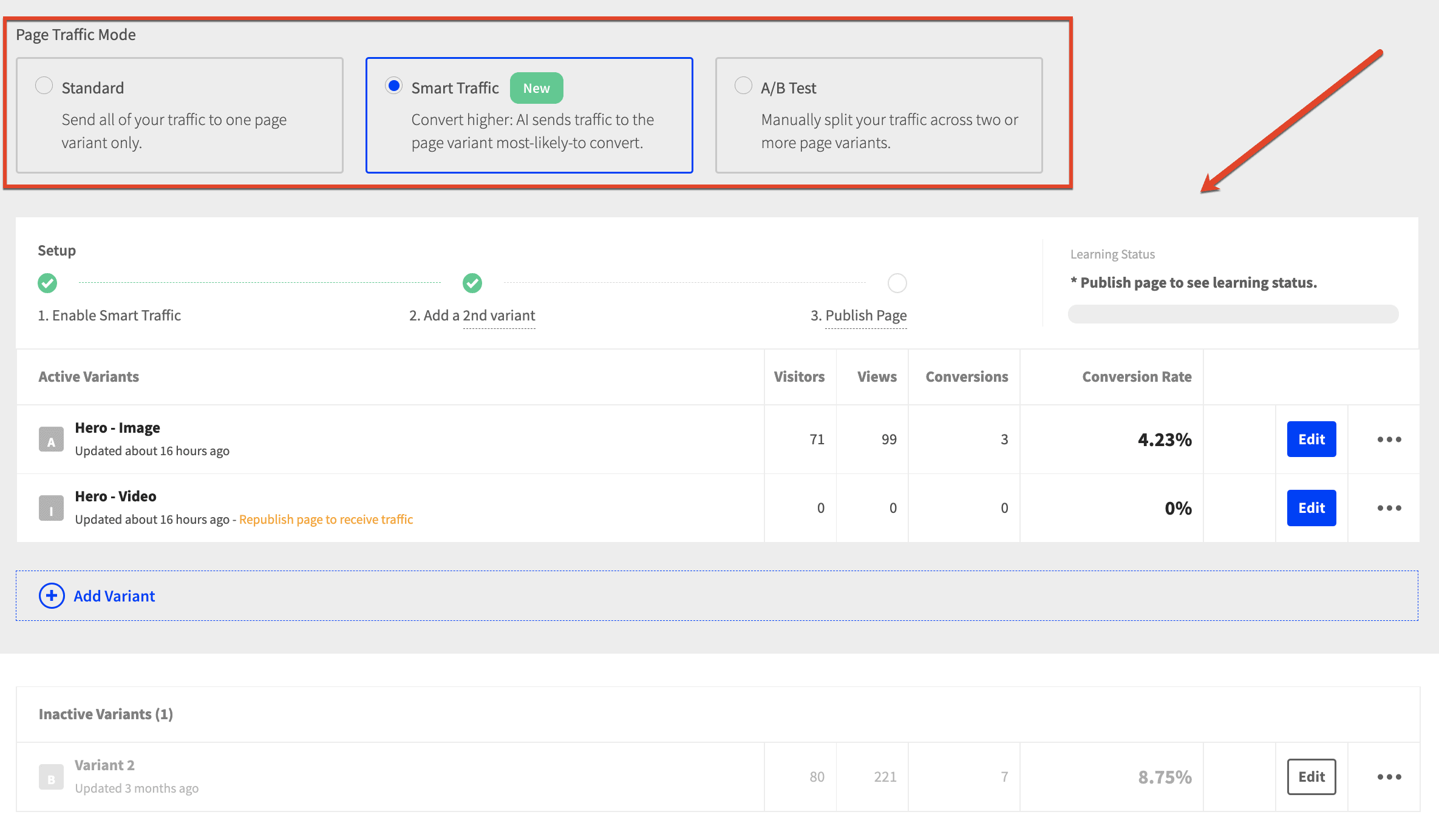 Click the blue Edit button on the right-hand side of a page variant to launch the builder.
After you've edited your page, you can choose between three modes of testing:
Standard: One version of your landing page (i.e., variant) published at a time. 

Smart Traffic

: Unbounce's AI-powered

algorithm directs specific audiences to variants that they're most likely to complete a conversion on.

 

A/B Testing

: Split testing where you can control variants' weights and how much of your page traffic you send to each variant. 
Leads
Review form responses from your visitors by navigating to the Leads tab: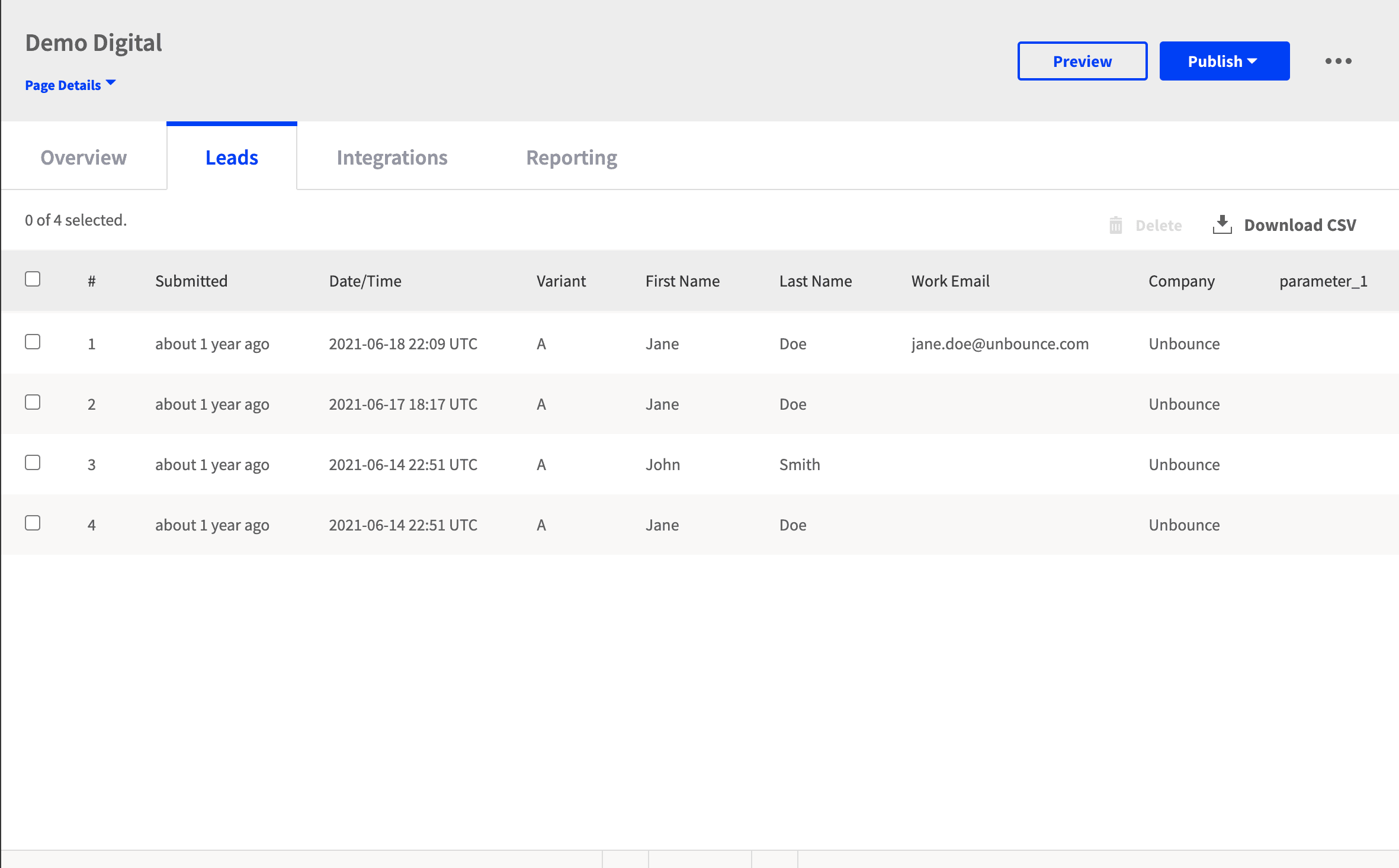 See our documentation to learn more: Getting Your Leads.
Note:
If you have a form on your landing page, the responses will appear here within the Leads table.
Integrations
Navigate to the Integrations tab to connect your landing page to third-party CRM platforms or lead management tools: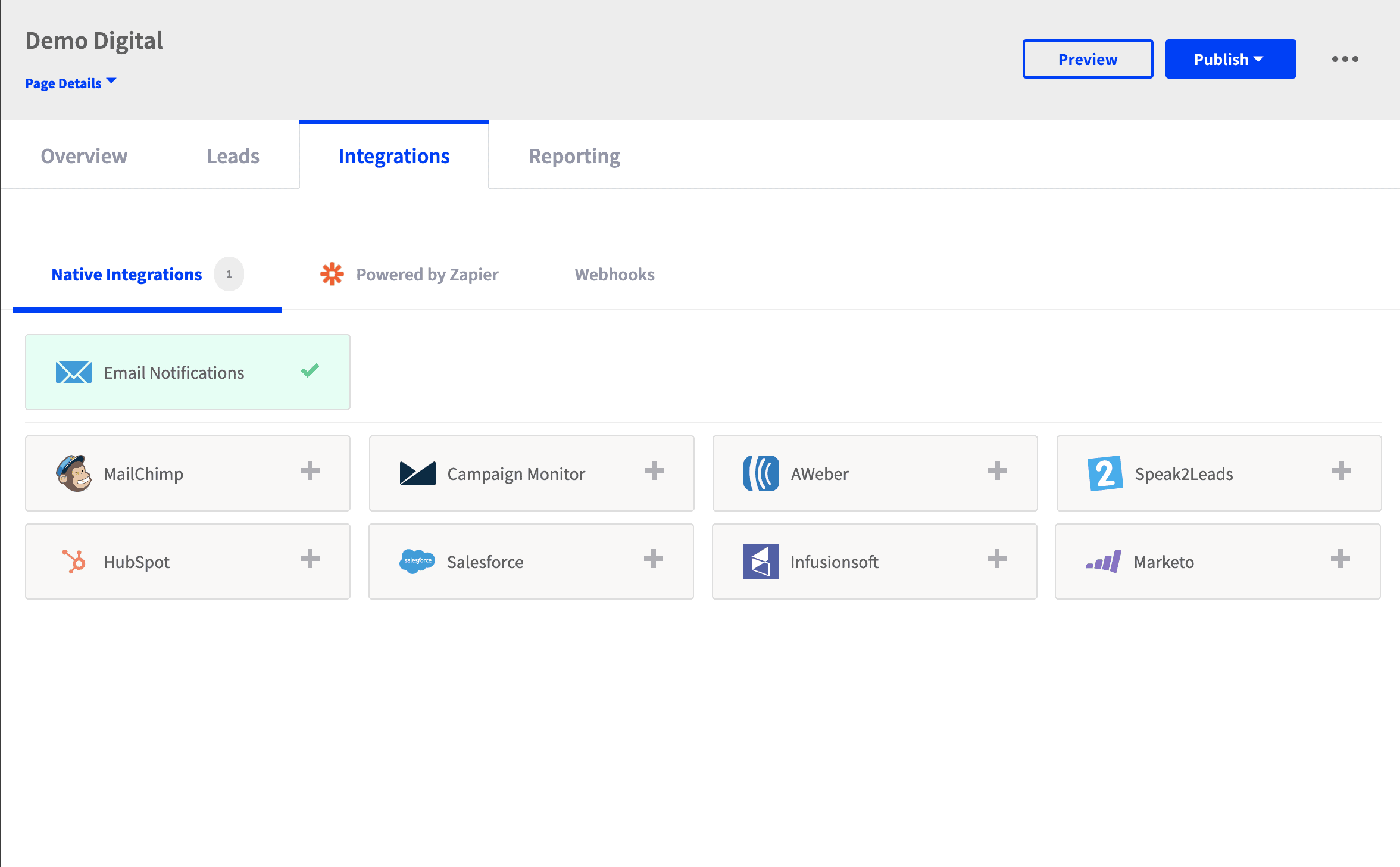 Reporting
If you've enabled Smart Traffic on your landing page(s), you have access to viewing additional reporting data via Behavior Sets: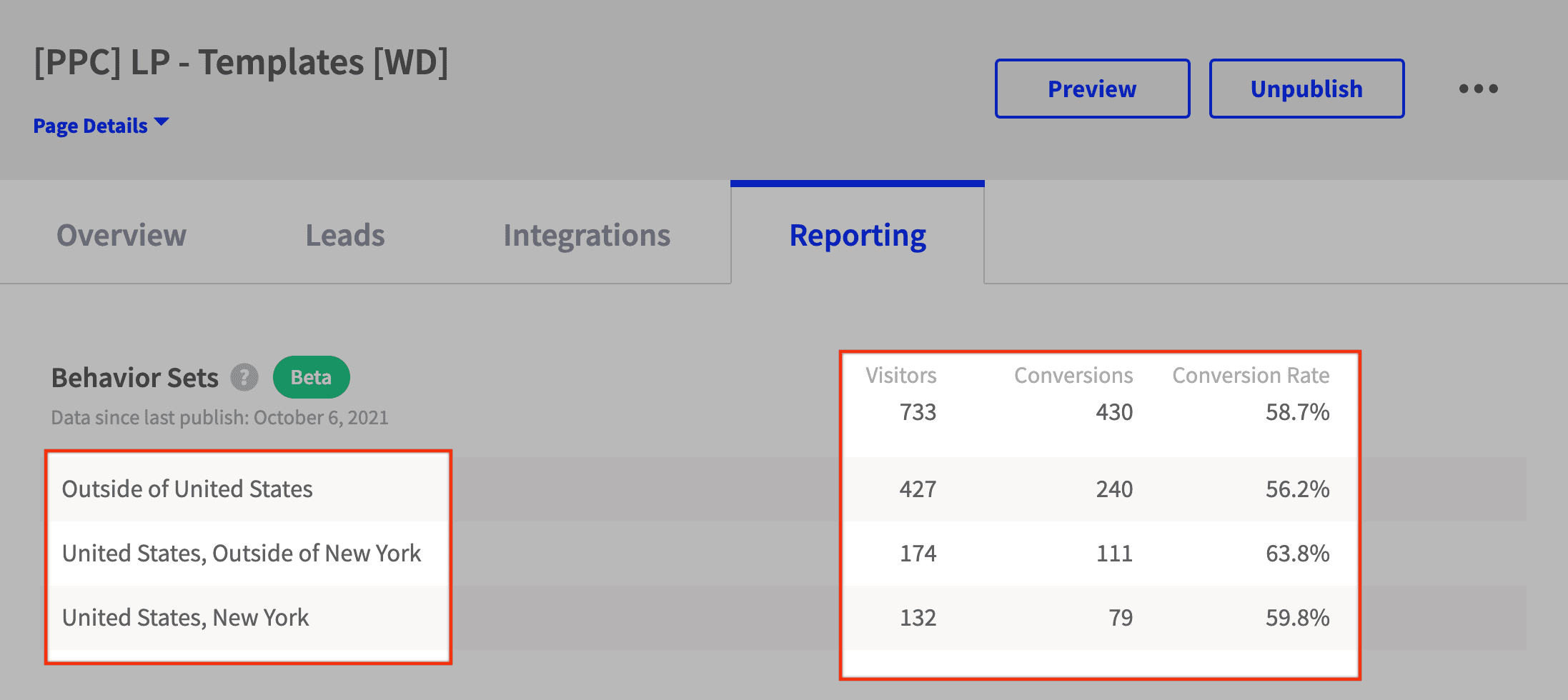 See the following resources to learn more: