The Sort and Filter feature is a page management tool that allows you to organize how your landing pages display in the All Pages screen.
The Filter drop-down menu allows you to choose one of these landing pages types to display:
All | Published | Unpublished | Integration Errors | Mobile Responsive | Non-Mobile Responsive.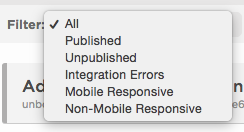 The Sort drop-down menu allows you to order your landing pages by:
Date Modified | Date Created | Page Name | URL Name.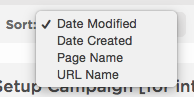 The Arrow button allows you to display your landing pages in ascending or descending order according to the Sort option enabled.