Qualaroo is a feedback widget that lets you ask your visitors survey questions on your page. It's simple to integrate into your Unbounce pages.
For more information about why collecting customer feedback on landing pages is a good idea, check out this blog post on point of conversion feedback mechanisms.
---
How Do I Add a Qualaroo Code Snippet to my Unbounce Page?
Sign in to your Unbounce account.
Click the Settings menu item on the left-hand side of the screen. This will bring up a drop-down menu. 
In the new drop-down menu, select Script Manager. This will bring up a new page.
Click the Add a Script button in the top right corner of the screen. This will bring up a new dialog box.
In the new Add a Script Dialog box, choose the Custom Script option from the What would you like to add? drop-down menu.
In the same Add a Script dialog box, enter the name of your script in the Script Name field, then click the Add Script Details button. A new page will appear. 
From the Placement drop-down menu, choose the After Body Tag, and from the Included on drop-down menu, choose All.

Sign in to your Qualaroo account in another browser tab. Navigate to your Qualaroo Dashboard, and click the Install Code button next to the website you want to add to Unbounce.

Select the code snippet on the next page and copy it to your clipboard.

Back in your Unbounce account, paste the code snippet in the script field of the Script Details box, and remove the two comment tags at the top, before the "<script>" tag.

Choose the domain(s) on which you would like the script to be enabled and click "Save and Publish Script".

---
Using Feedback for Landing Page Optimization
The simplest way to find out why your page isn't converting is to just come right out and ask.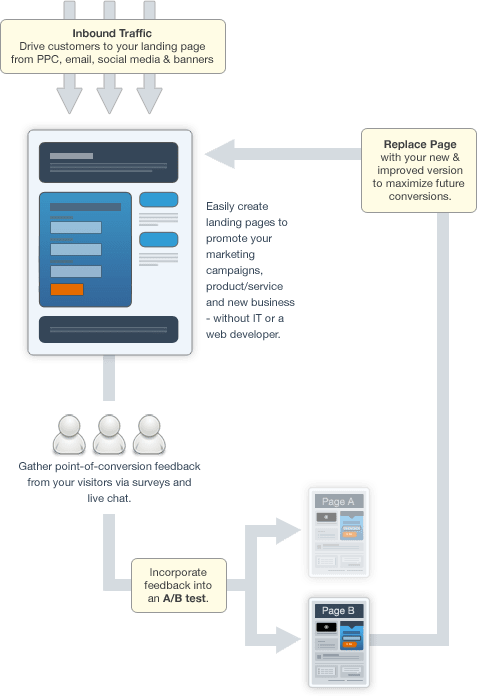 There are a couple of cool products out there that let you do this, either via a survey or live chat.
---