---
Duplicating an Existing Page
You can duplicate any of your Unbounce pages at any time. To do this, access the Pages tab which will display a list of your Unbounce pages. Then access the gear menu of the page you want to duplicate and select Duplicate Page.

Select the Page Variants and features that you would like to duplicate using the checkboxes in the 'Duplicate' dialog window. Click 'Duplicate Page' and the new page will appear in the Pages tab along with all your other pages.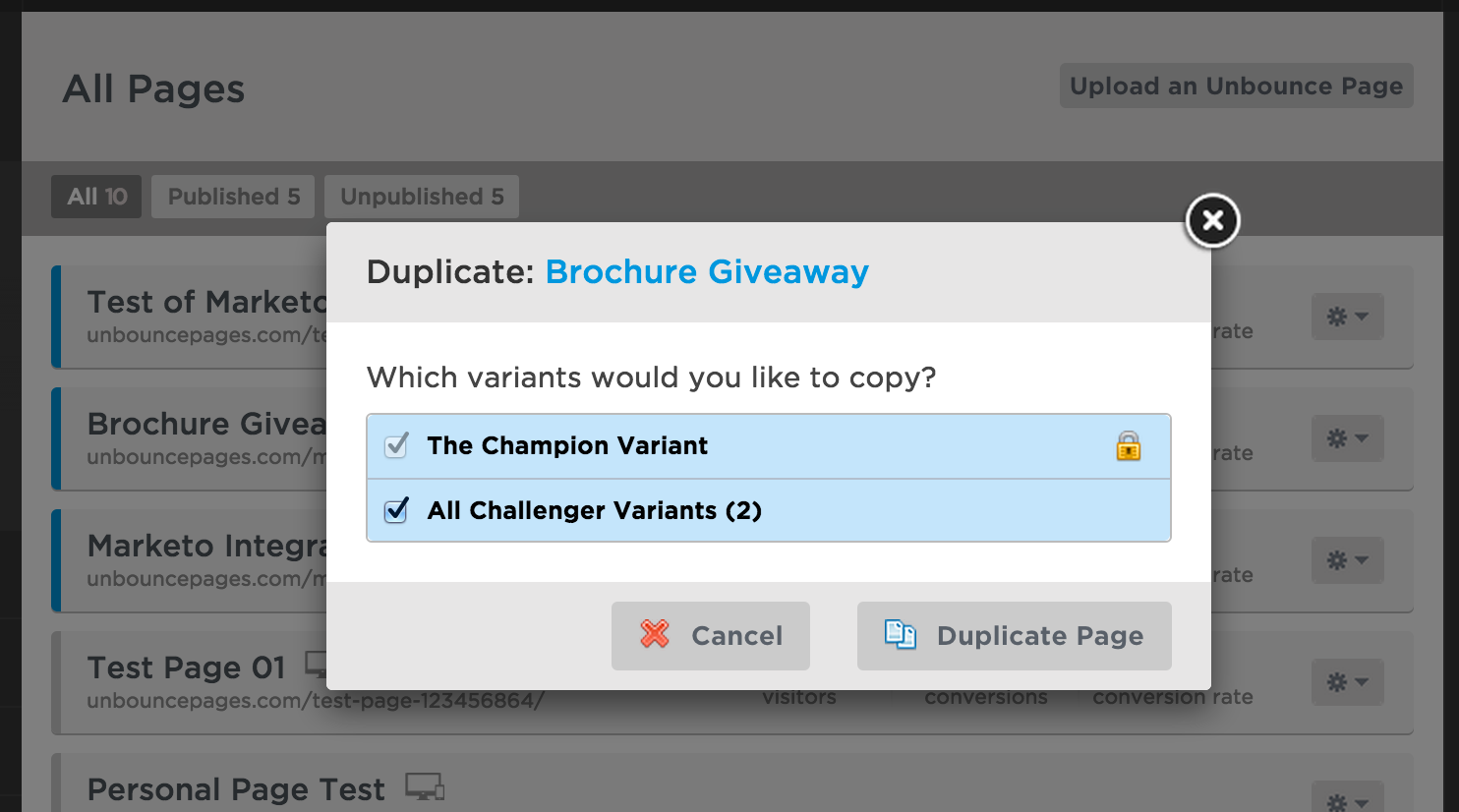 Once the new page has been created it is completely independent from the original and can be edited and modified just any other Unbounce page.
---
Retrieving a Deleted Page
Need to retrieve a deleted page? No problemo. Contact our friendly, neighbourhood Support team at 1 888 515-9161 or support@unbounce.com and they'll be able to restore your page for you in a jiffy.
Protip: If you've deleted more than one page, and the one you'd like to retrieve isn't the most recently-deleted one, you can help our team find your page more quickly by providing the page name and/or a rough estimate of when the page was deleted, if you can!
---
Grouping Your Pages
Grouping your pages is an effective way to organize your account according to campaign, landing page type...or whatever you want! Groups of pages can be added under your main account, and within client accounts.
To add a new landing page group, click "+ New Group" on the left side of your All Pages Screen.
To add or remove a page to a group, select the gear menu on the page and click "Add to Groups". Select or deselect the page groups as desired and follow the prompts to update your groups.
---
Performing Bulk Actions on Your Pages
The Bulk Actions feature can be found on your All Pages screen above your page list, and it allows you to perform any of the following 6 actions to several (up to 20) pages at once: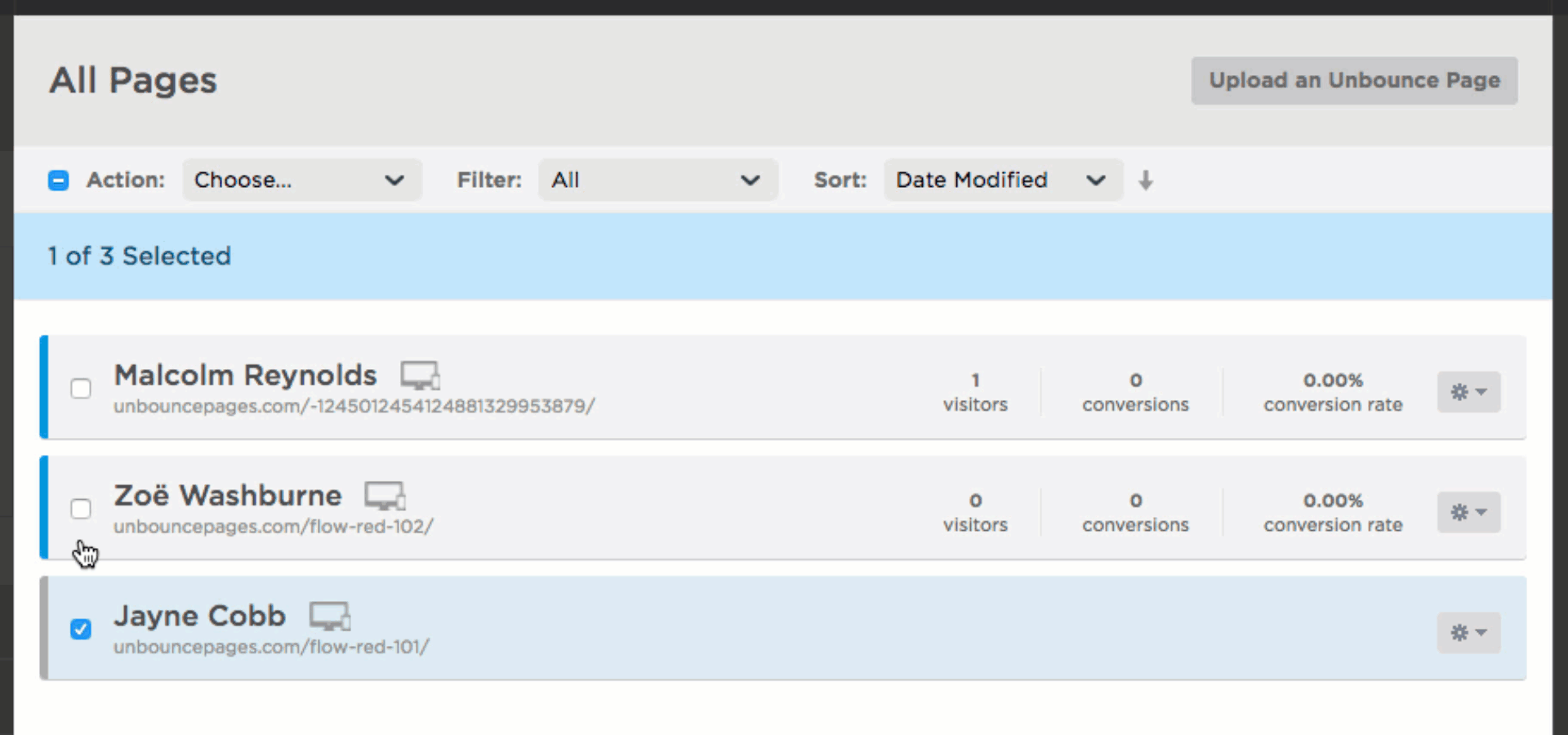 To quickly select all pages shown on your screen, check the "Action" box.
Add Pages to Page Group"

This adds the selected page(s) to your desired page group(s). If you have not yet created any page groups, you will first be prompted to create a new group.


Remove Pages from Page Group"

This removes the selected page(s) from your desired page group(s).


"Copy Pages to a Client"

This copies the selected page(s) to a different client. This won't remove the page from its previous client(s). You can copy your pages to more than one client, but this must be done individually for each client. The stats and leads from the original pages will not be copied, and the new pages will start off in an unpublished state.


"Publish Pages"

This publishes your selected page(s). It may take a few moments to see your published changes reflected, so you may want to give it a moment and a few refreshes if you don't see your new content straight away.


"Unpublish Pages"

This unpublishes your selected page(s). It may take a few moments for your page to unpublish, so you may want to grab a cup of tea and refresh a few times if you don't see a change right away.


"Delete Pages"

This deletes your selected page(s). Accidentally delete a page? Check out Retrieving a Deleted Page.
---
Sorting and Filtering Your Pages
The Sort and Filter feature is a page management tool that allows you to organize how your landing pages display in the All Pages screen.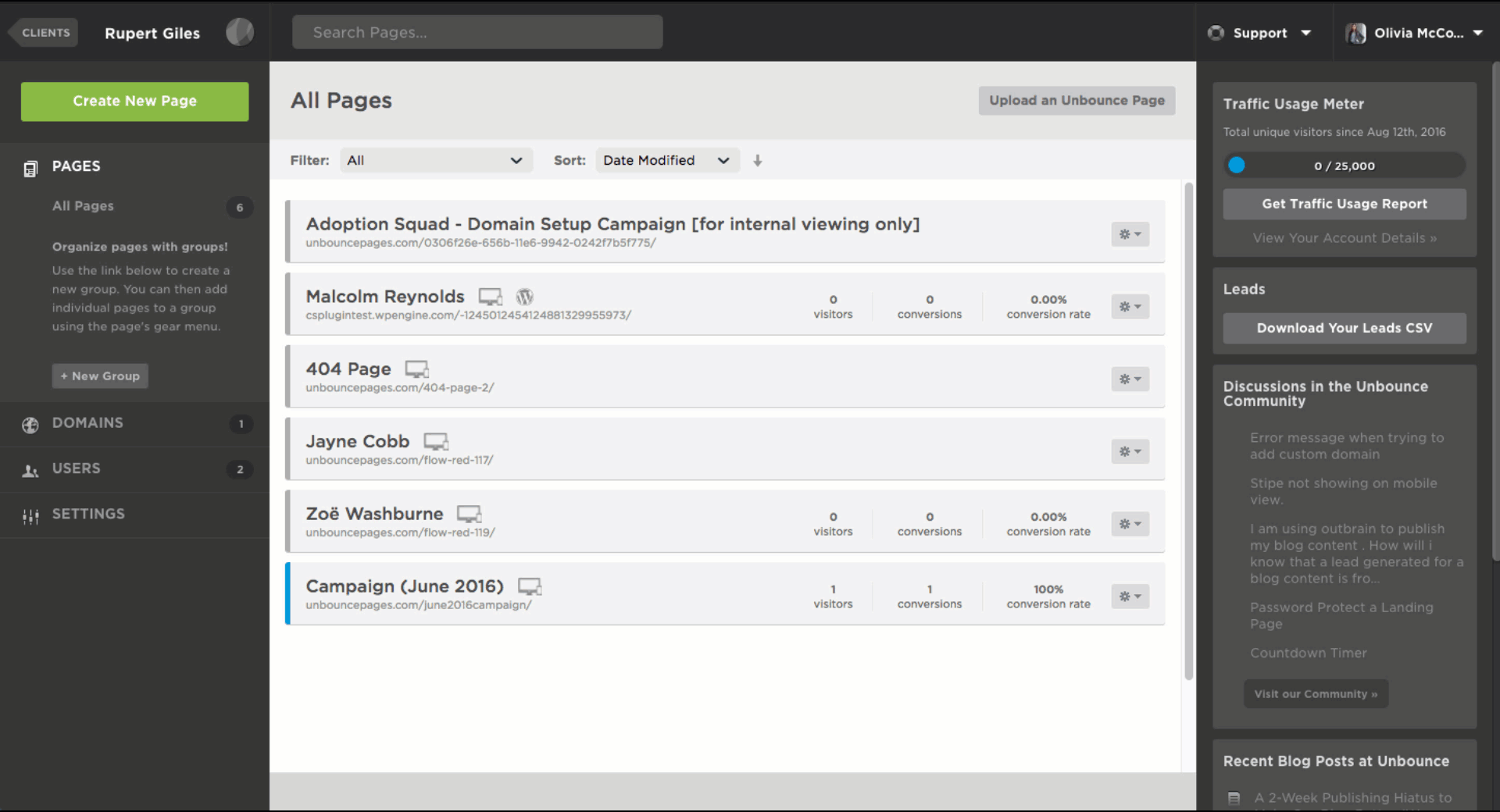 The Filter drop-down menu allows you to choose one of these landing pages types to display:
All | Published | Unpublished | Integration Errors | Mobile Responsive | Non-Mobile Responsive.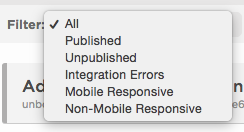 The Sort drop-down menu allows you to order your landing pages by:
Date Modified | Date Created | Page Name | URL Name.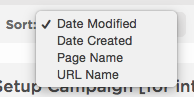 The Arrow button allows you to display your landing pages in ascending or descending order according to the Sort option enabled.

---
Glossary Terms
Lead generation page: a landing page that contains a form. Its purpose is to attract potential customers to learn more about your product or service.
Click-through page: a landing page without a form. Its purpose is to warm up visitors to your unique value proposition before sending them deeper into the marketing funnel.
---