So you've created your Unbounce account. Congrats! Now you'll be eager to jump into the page builder and start creating your first landing page.
The Unbounce app has a wide variety of custom, mobile responsive templates for you to choose from.
In case you're looking for even more variety, you can always browse the wide selection of Unbounce templates in Themeforest. At Themeforest, you can buy and sell HTML templates as well as themes for popular CMS products like WordPress, Joomla and Drupal. Items are priced on the complexity, quality, and use of the file; the total price also includes a Buyer Fee. The site is home to a bustling community of web designers and developers and is the biggest marketplace of its kind.
Once you've scouted out the perfect template (either from Themeforest or another source), there's just a few steps to complete in order to upload the template to Unbounce. By following these steps you'll be able to transfer your template over to Unbounce so you can get cracking!
This article will help you out with:
Applying native and third party templates for landing page design
Identifying the best template for your use case
Creating a new landing page
---
Creating a New Landing Page From a Template
When you log into Unbounce, the first thing you'll see is your All Pages screen.
Click the Create New Page button on the left and you'll be taken to the Create a New Page Screen
Select a template from our assortment of lead gen, click-through, ebook, product launch pages and more. You can also Start with a Blank Page. Double click a template to take a closer look at it. 
Name your page to suit your campaign
Click Start with this Template which will bring you to the Unbounce Landing Page Builder
Looking to duplicate an entire existing page (including all variants)? We can help with that too! Simply scroll down this article using the table of contents on the right.
---
Buying a Template from Themeforest
Through your Themeforest account, you'll find loads of Unbounce themes and templates that can be uploaded to your account, so your style choices are never limited.
You'll need to set up an account with Themeforest to get started. Once you've registered, navigate to the Unbounce section (Marketing > Unbounce) to check out the available Unbounce templates.
Click through to preview any templates you like. You'll find screenshots, a live preview, and further information about the template.
Once you've decided on a template, click the Purchase button on the upper right and you can pay from either preloaded credit, or instant purchase.
*A regular license on Themeforest allows you to use the template for multiple landing pages under the same domain.
---
Uploading a Template/Page into Unbounce
Once you've scouted out the perfect template, (either from Themeforest or another source), there's just a few steps to complete in order to upload the template to Unbounce. By following these steps you'll be able to transfer your template over to Unbounce so you can get cracking!
(You'll need to repeat the upload process for each .unbounce file if you've purchased bundled templates.)
If you've received an Unbounce page (or template) from someone (or from ThemeForest, or one of our ebooks) you can upload it from your All Pages screen.
NOTE: You can only upload ".unbounce" files into Unbounce.
Your pages need to be assembled in the Unbounce editor which means that externally designed HTML pages or Photoshop (PSD) files cannot be imported.  However, if you have a PSD for your page, it can be sliced and its individual components can be uploaded then assembled in Unbounce.  
Click Upload an Unbounce Page in the upper right:

Click Choose File.



Select the .unbounce file from your computer:
Click Upload (you'll see the progress of your file as it uploads):


Wait a couple of minutes while we unpack your file and add it to your account:

6. We'll let you know by email as soon as your new page is ready to use.
You can now edit and duplicate the page(s) just like any other Unbounce page(s)!
---
Duplicating an Existing Page
You can duplicate any of your Unbounce pages at any time. To do this, access the Pages tab which will display a list of your Unbounce pages. Then access the gear menu of the page you want to duplicate and select Duplicate Page.

Select the Page Variants and features that you would like to duplicate using the checkboxes in the 'Duplicate' dialog window. Click 'Duplicate Page' and the new page will appear in the Pages tab along with all your other pages.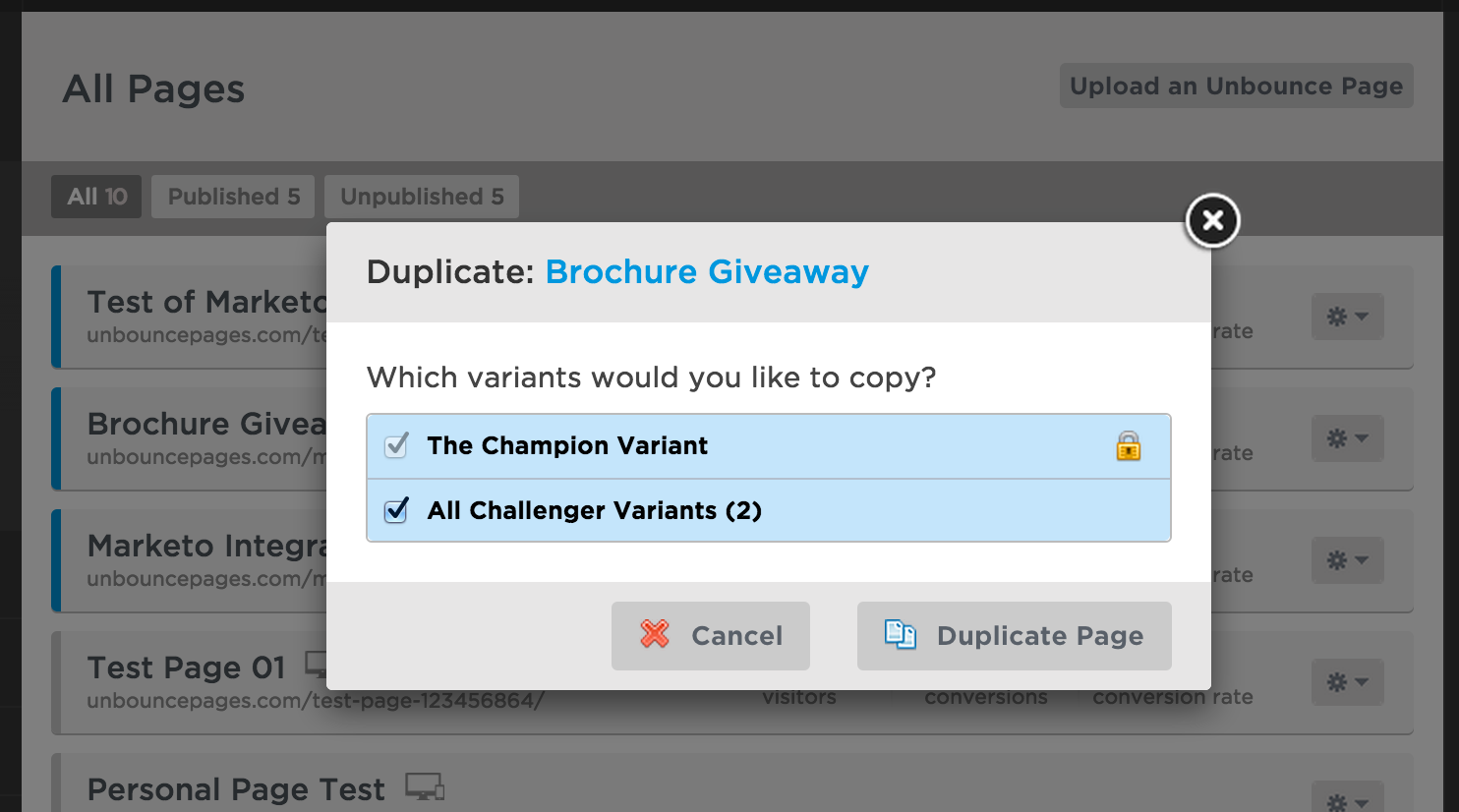 Once the new page has been created it is completely independent from the original and can be edited and modified just any other Unbounce page.
---
Retrieving a Deleted Page
Need to retrieve a deleted page? No problemo. Contact our friendly, neighbourhood Support team at 1 888 515-9161 or support@unbounce.com and they'll be able to restore your page for you in a jiffy.
Protip: If you've deleted more than one page, and the one you'd like to retrieve isn't the most recently-deleted one, you can help our team find your page more quickly by providing the page name and/or a rough estimate of when the page was deleted, if you can!
---
Creating a New Page from a Variant
Looking to create a new page from a successful variant? You can do that!
Head to the Page Overview for the page where the variant lives and click the gear icon associated with the variant you want to copy.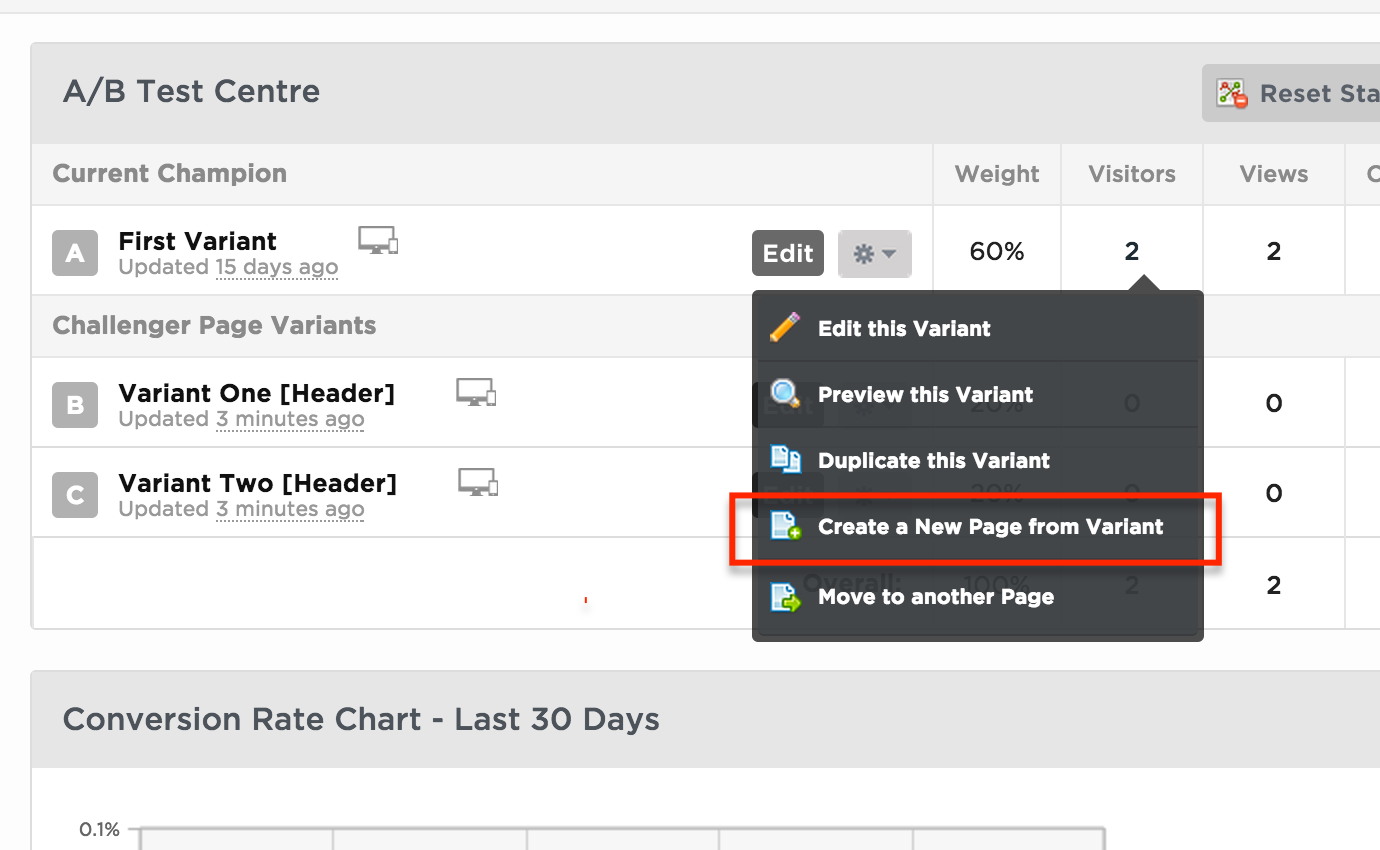 Click "Create a New Page from Variant" and then choose which integrations you'd like to copy with it.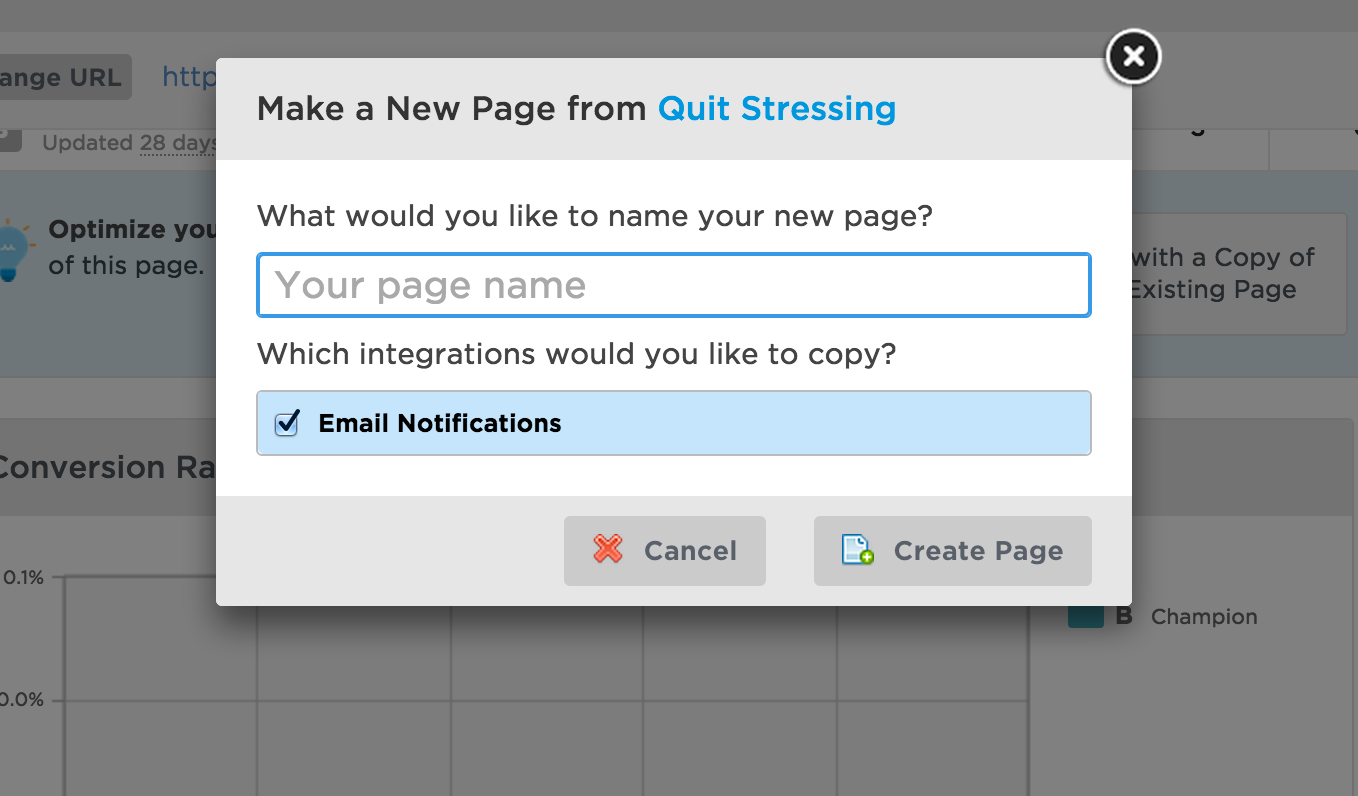 Once you click "Create Page" you'll be taken to the Page Overview for your new page. Finally, make any edits you'd like and Publish your brand new page!
---
Glossary Terms
Lead generation page: a landing page that contains a form. Its purpose is to attract potential customers to learn more about your product or service.
Click-through page: a landing page without a form. Its purpose is to warm up visitors to your unique value proposition before sending them deeper into the marketing funnel.
---