Previewing your landing page is a great way to see how it'll appear for page visitors once it's published, but without having to publish your page just yet.
Previewing your page is also an excellent method to test features on your page, such as custom scripts & custom code. 
Previewing your Page from the Page Overview
The Page Overview is your one-stop shop for conducting all your page actions.  
Log in to the Unbounce Conversion Intelligence™ Platform, and click on a page from the All Pages screen to launch the Page Overview:


On the right-hand side of the Page Overview, click the ellipses icon (three dots) to view more options:

Select Preview from the list. 
The Preview mode of your page will appear. 
Previewing your Page in Smart Builder
In Smart Builder, most features and Apps work in Preview mode.
For example, if you want to see how an embedded video appears and plays on your Smart Builder page, you will need to Preview the page to view/test this video.
Navigate to your page in Smart Builder. 
At the top-right-hand corner, toggle the Preview button on.
The preview version of your landing page will appear in Smart Builder:

To exit Preview mode, toggle the Preview button off.
While in preview mode, you can also click the arrow button next to the desktop icon to toggle between the preview mode of different versions of your landing page: desktop, tablet, and mobile versions: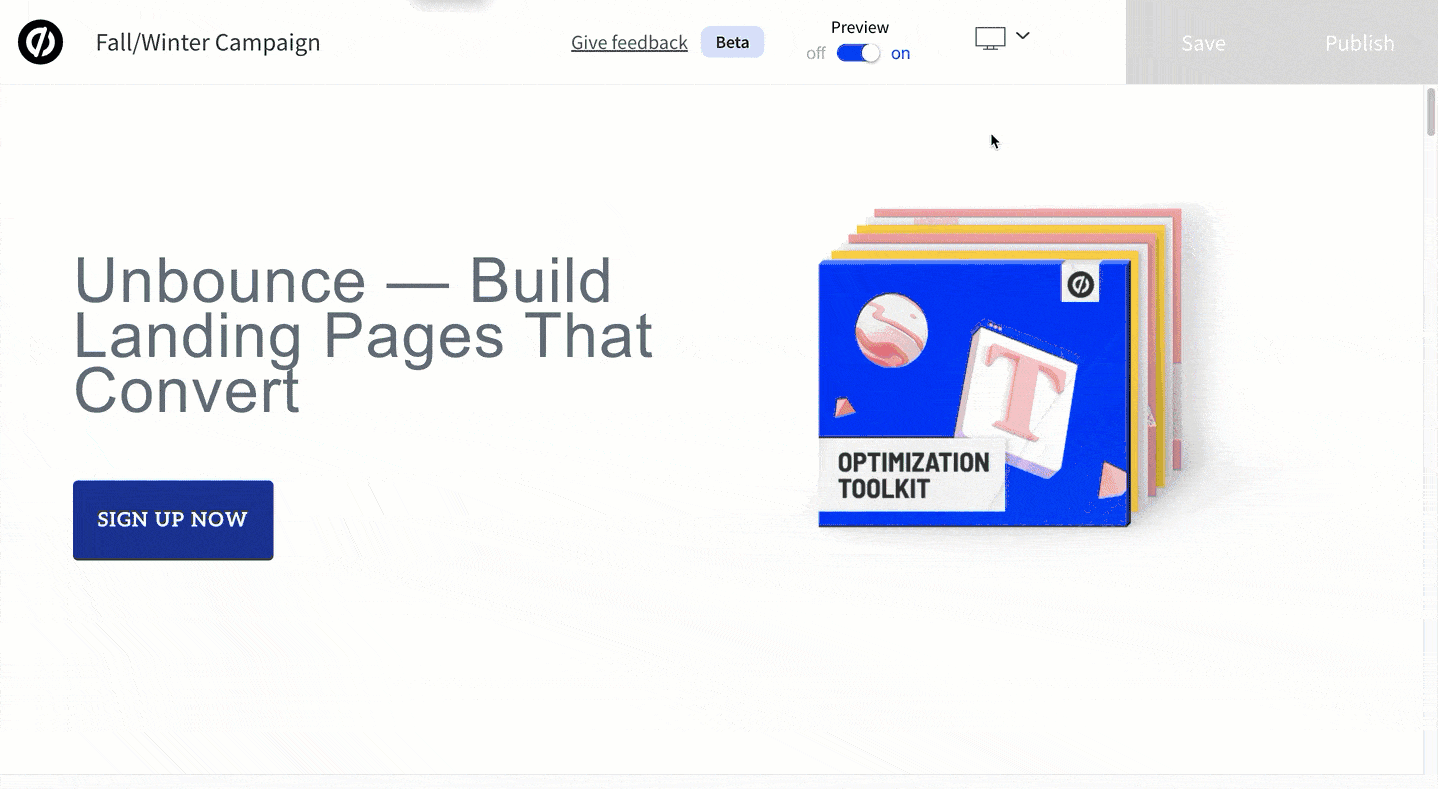 Previewing your Page in the Classic Builder
Navigate to your page in the Classic Builder. 
At the top-right-hand corner, click the Preview button.
 The preview version of your landing page will appear in Classic Builder:

While in preview mode, click the Mobile button next to the Desktop button to switch between the different versions of your landing page: