Access your Account dropdown by clicking your name in the top right of the Unbounce interface:
Your Profile
Edit your profile picture with Gravatar by clicking "Edit at Gravatar.com" Click "Edit Profile" to change your name, email, and email subscription preferences. Click "Change Password" to change your password.
Manage Account
First you'll see a high-level overview of your account. You can click through to individual areas of interest or use the menu on the left.
Subscription: shows you your current package and the other available. Click any of the buttons to upgrade or downgrade. Downgrade to Free by clicking the "Cancel My Plan" button on the bottom right - you will be prompted to remove any paid options (like custom domains) if you have them set up.
Invoices: access to all your invoices once they're processed. 
Billing: update your Credit Card details.
Manage Add-Ons: a high level view of your Clients, Users, & Domains. To exit your Manage Account page, use the context switcher in the top left: click "Clients" and choose which client you'd like to access.
---
How do I cancel or downgrade my account?
Access your Account dropdown by clicking your name in the top right of the Unbounce interface
Select Subscriptions from the Account Overview menu on the far left
Click the "Cancel My Plan" button on the bottom right

---
What happens if I go over my traffic limit?
If you exceed your unique visitor allotment you will receive a polite email from us asking you to upgrade. That's it. Your pages will continue to function as normal, you will still be able to access your account and all your data will still be available to you. You can monitor your traffic from the Account Overview page.
---
Where are my Landing Pages Hosted?
All of your Unbounce pages are hosted on Amazon Web Services S3 servers. We do nightly backups of the database that contains your page sources and that database is replicated in real time across our servers.
Where is my data stored?
Pages are replicated across four fully redundant servers: US-West, US-East, Singapore, and Ireland. Any page data (lead information, uploaded assets, and page statistics) is replicated across our US servers. We automatically detect and route around any failures in any one of our data centres using Amazon's Route 53 DNS and latency-based routing. This automatic failover means that a single error in any one data centre will only affect a portion of published page traffic for a short amount of time (within minutes).
How are my pages served?
Our page serving is "latency balanced" amongst all four data centres. Visitors to your published pages are directed to the closest data centre from a network latency perspective to ensure the fastest page load time possible.
---
Grouping Your Pages
Grouping your pages is an effective way to organize your account according to campaign, landing page type...or whatever you want! Groups of pages can be added under your main account, and within client accounts.
To add a new landing page group, click "+ New Group" on the left side of your All Pages Screen.
To add or remove a page to a group, select the gear menu on the page and click "Add to Groups". Select or deselect the page groups as desired and follow the prompts to update your groups.
---
Performing Bulk Actions on Your Pages
The Bulk Actions feature can be found on your All Pages screen above your page list, and it allows you to perform any of the following 6 actions to several (up to 20) pages at once: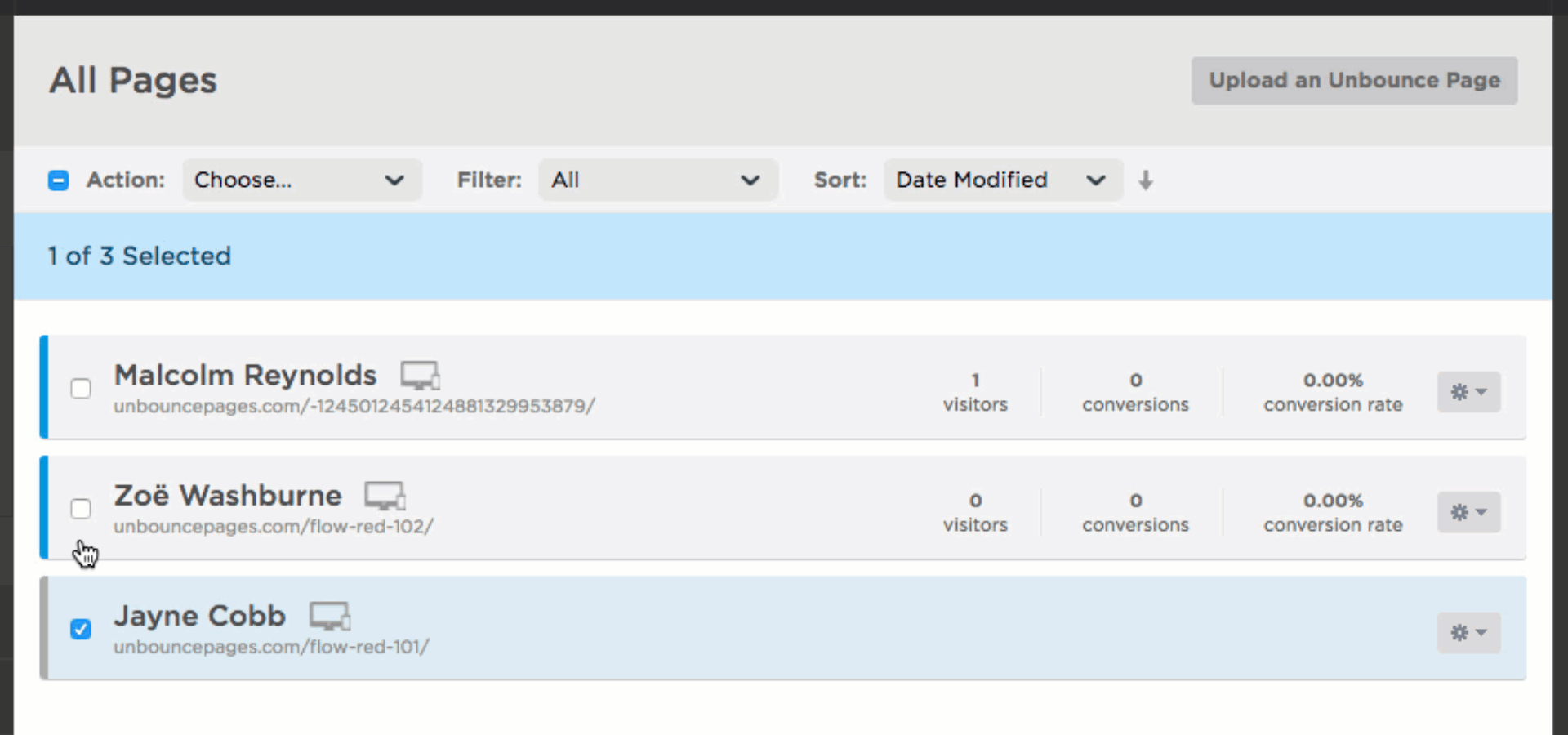 To quickly select all pages shown on your screen, check the "Action" box.
Add Pages to Page Group"

This adds the selected page(s) to your desired page group(s). If you have not yet created any page groups, you will first be prompted to create a new group.


Remove Pages from Page Group"

This removes the selected page(s) from your desired page group(s).


"Copy Pages to a Client"

This copies the selected page(s) to a different client. This won't remove the page from its previous client(s). You can copy your pages to more than one client, but this must be done individually for each client. The stats and leads from the original pages will not be copied, and the new pages will start off in an unpublished state.


"Publish Pages"

This publishes your selected page(s). It may take a few moments to see your published changes reflected, so you may want to give it a moment and a few refreshes if you don't see your new content straight away.


"Unpublish Pages"

This unpublishes your selected page(s). It may take a few moments for your page to unpublish, so you may want to grab a cup of tea and refresh a few times if you don't see a change right away.


"Delete Pages"

This deletes your selected page(s). Accidentally delete a page? Check out Retrieving a Deleted Page.
---
Sorting and Filtering Your Pages
The Sort and Filter feature is a page management tool that allows you to organize how your landing pages display in the All Pages screen.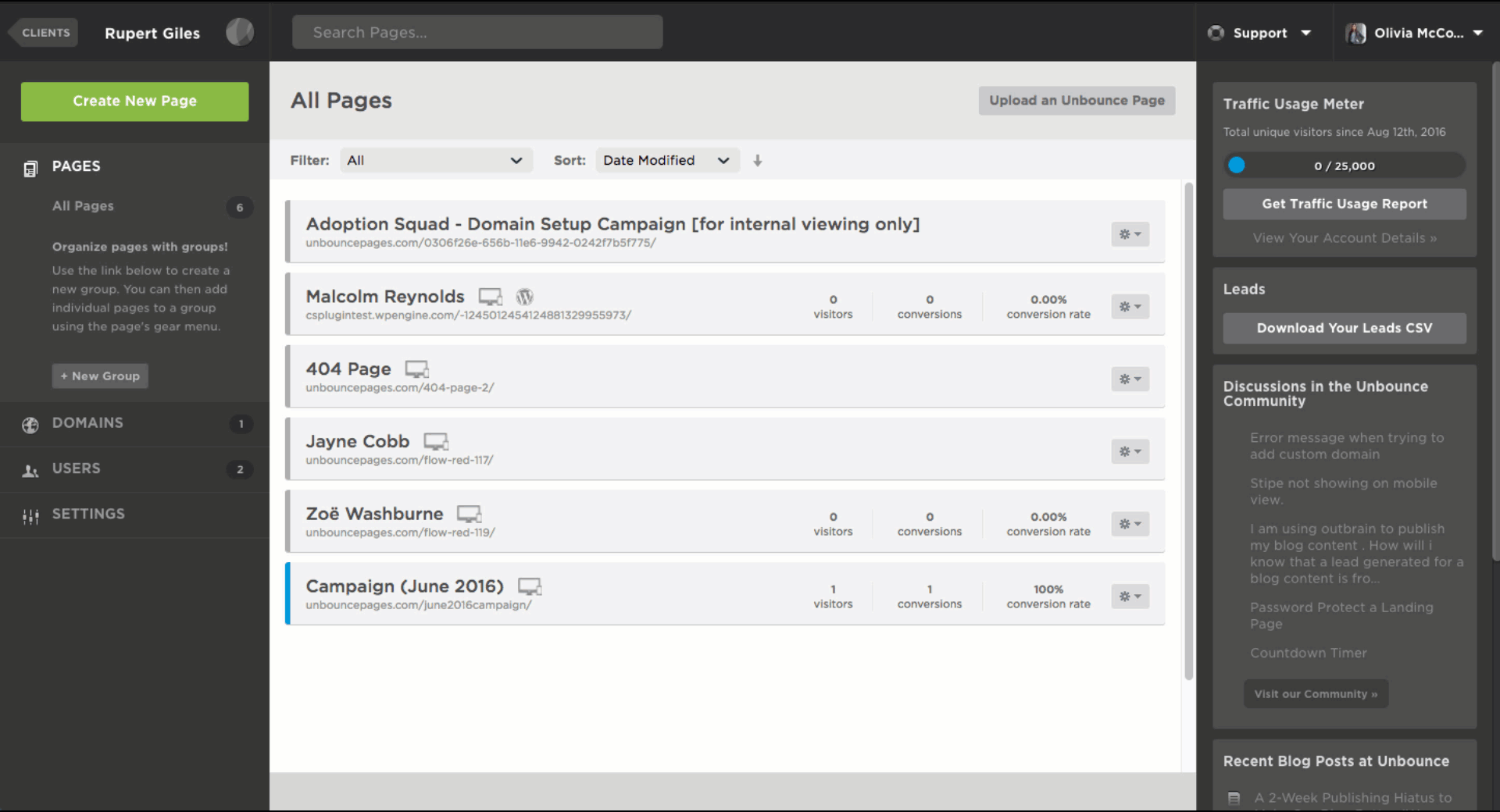 The Filter drop-down menu allows you to choose one of these landing pages types to display:
All | Published | Unpublished | Integration Errors | Mobile Responsive | Non-Mobile Responsive.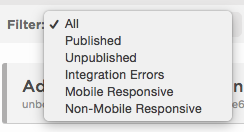 The Sort drop-down menu allows you to order your landing pages by:
Date Modified | Date Created | Page Name | URL Name.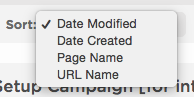 The Arrow button allows you to display your landing pages in ascending or descending order according to the Sort option enabled.

---
How do I remove the black Unbounce bar from the bottom of my pages?
The Unbounce branding bar ( "Built using the Unbounce Landing Page Platform") is only present on Free accounts. This can be removed by upgrading to any paid plan.(take a look at our different plans on our pricing page)The bar is added/removed during the publishing process so be sure to republish your pages after you upgrade to eliminate it.
---
How reliable is Unbounce?
We recognize that ensuring our customer's landing pages are online and correctly collecting information is our top priority. Since we launched Unbounce in December of 2009, we've maintained an overall uptime of 99.99% for your published pages (unbouncepages.com), and 99.97% for the application you use to manage your pages (app.unbounce.com).
What about scheduled downtime?
One of the things we're very proud of is our approach to software deployment and systems maintenance. We generally release updates to the service several times per week (and sometimes several times in one day), and we have only ever taken the application offline for scheduled maintenance once, for 30 minutes in August 2012 to accommodate a major new software release.
---
How much does an Unbounce subscription cost?
Pricing is largely based on unique visitor count - with Pro accounts also benefitting from added Integrations and Multi-User features. The free account level adds an Unbounce branded footer to the bottom of pages and is designed mainly for testing. For an outline of the pricing for each subscription level, visit the Unbounce pricing page.
---
Glossary
Your Profile- where to edit your profile picture, change your name, email, email subscription preferences and password.
Manage Add-Ons- a high level view of your Clients, Users, & Domains.
Manage Account- accessed by clicking your name on the top right of the the Unbounce app.